With the demise of Tropical Storm Sebastien on November 24, we've likely seen the end of the 2019 Atlantic hurricane season, with a final tally of 18 named storms, 6 hurricanes, 3 intense hurricanes, and an ACE index of 129.8. The 1981 – 2010 averages for these quantities were 12.1 named storms, 6.4 hurricanes, 2.7 intense hurricanes, and an ACE index of 106, according to data from Colorado State University, so 2019 was near or above average in all metrics.
The season had two ominous harbingers of a warming climate: an ultra-intense hurricane--worthy of a category 6 rating if such a thing existed--and multiple damaging storms that moved very slowly at landfall. The ultra-intense hurricane was Hurricane Dorian, whose 185 mph winds devastated The Bahamas in early September when the mighty category 5 storm stalled over the islands. Dorian and Lorenzo (in far eastern Atlantic) were both category 5 storms, making 2019 the fourth consecutive year in which a category 5 storm developed in the Atlantic basin--a new record.
The damaging slow-moving storms of 2019 were Hurricane Barry (Louisiana, $600 million in damage), Hurricane Dorian (The Bahamas, Southeast U.S. and Canada, at least $4.6 billion in damage), Tropical Storm Imelda (Texas and Louisiana, $2 billion in damage), and Tropical Storm Fernand (northeast Mexico, $250 million in damage). All four storms moved at 8 mph or slower for two or more days near the time of landfall; the average forward speed of a tropical cyclone is about 11 mph.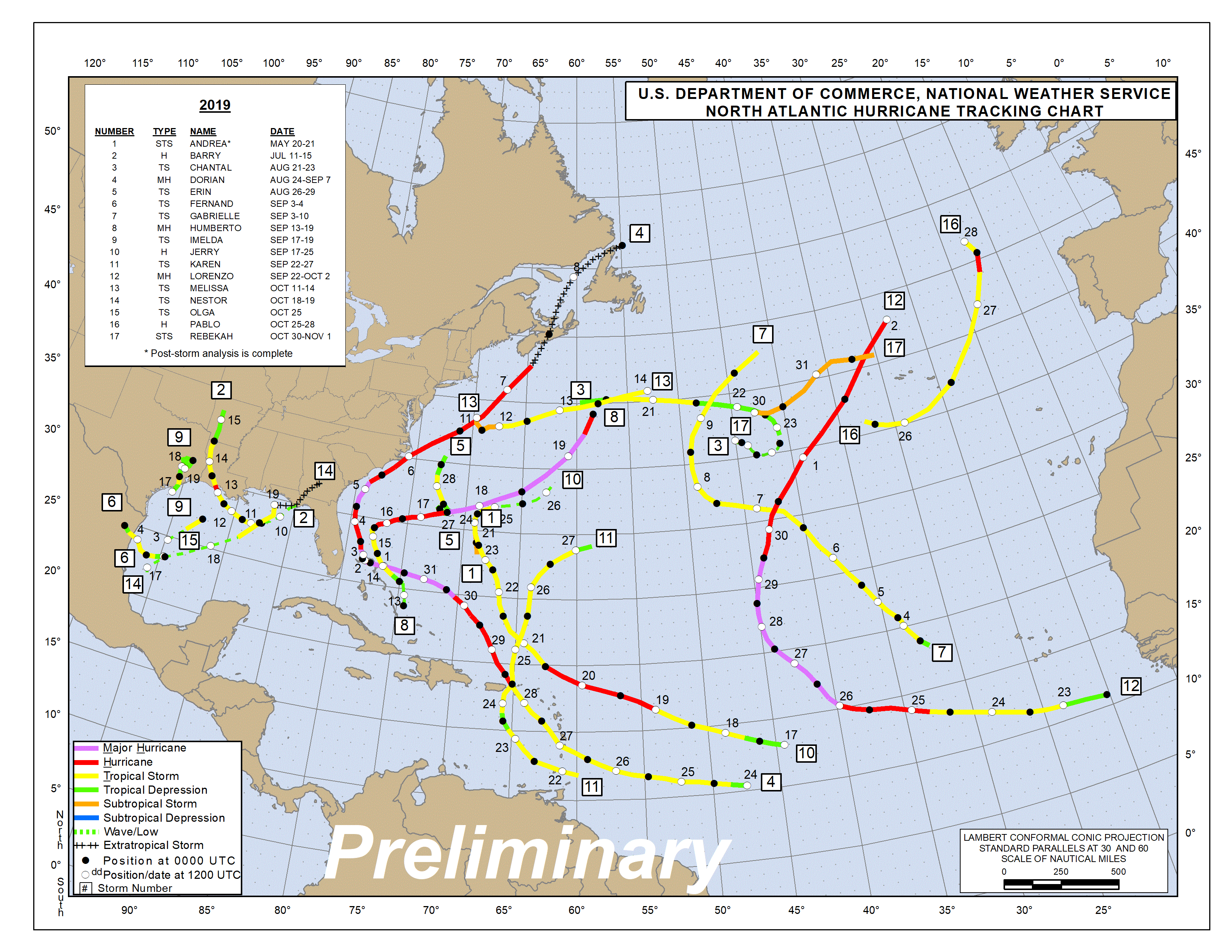 Short-lived storms set a record in 2019
The Atlantic's 18 named storms put the 2019 season in pretty rare territory, since only 8 other seasons since 1851 have had 18 or more named storms—mostly recently, in 2012, 2011, and 2010. However, seven of the eighteen Atlantic named storms in 2019 lasted 24 hours or less at tropical storm strength—the most extremely short-lived named storms on record, breaking the old record of 6 set in 2005, according to Colorado State University hurricane scientist Dr. Phil Klotzbach. Four of the seven short-lived storms of 2019 formed in the Gulf of Mexico, which limited their lifetimes due to quick landfalls after formation (Fernand in Mexico and Imelda in Texas) or due to interactions with cold fronts that made them extratropical (Nestor and Olga during October).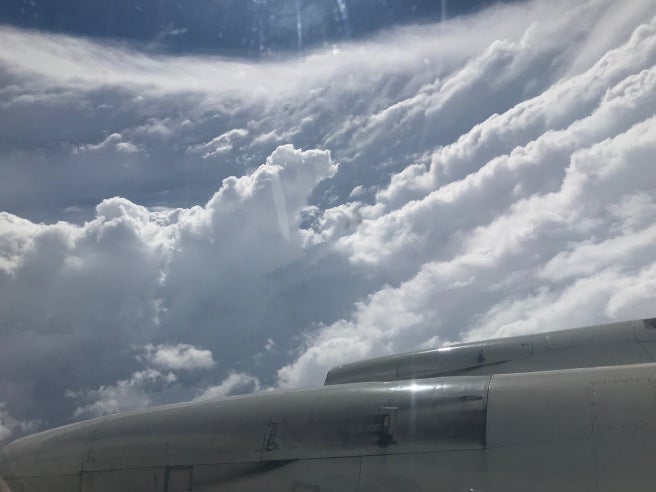 Category 5 Hurricane Dorian devastates The Bahamas, then hits the U.S. and Canada
After hitting St. Thomas in the U.S. Virgin Islands as a category 1 hurricane on August 28, Hurricane Dorian rapidly intensified into a category 5 hurricane and powered ashore on Great Abaco Island in The Bahamas on September 1, 2019. At landfall, Dorian had sustained winds of 185 mph, gusts up to 220 mph, and a central pressure of 911 mb, tying it with the Labor Day Hurricane of 1935 in the Florida Keys as the most powerful landfalling Atlantic hurricane (by wind speed) on record. Winds of 185 mph would make Dorian worthy of a category 6 rating, if it existed. Dorian was also the strongest hurricane ever recorded in the open Atlantic, outside of the Caribbean and Gulf of Mexico (previous record: Hurricane Irma of 2017, with 180 mph winds). Only one Atlantic hurricane had stronger winds than Dorian: Hurricane Allen of 1980, which peaked with 190 mph winds in the southeastern Gulf of Mexico.
At landfall, Dorian was moving at just 5 mph, and moved at 5 mph or less through The Bahamas for 27 hours at category 5 strength. Dorian tracked only 25 miles in 24 hours—the second shortest straight-line distance tracked by an Atlantic major hurricane in a 24-hour period since 1950. Only Hurricane Betsy in 1965, which tracked 12 miles in a 24-hour period, was slower. Portions of Dorian's eyewall lashed Great Abaco and Grand Bahama islands with Category 5 winds for a total of 22 hours before the great hurricane finally weakened to Category 4 strength.
In records going back over a century, there are no cases where an Atlantic Category 5 hurricane has impacted a land area for as long as Dorian battered The Bahamas. According to the Bahamas Department of Meteorology, Dorian brought a storm tide of 20 to 25 ft (6.1 to 7.6 m), and dropped an estimated 3 ft (0.91 m) of rain over The Bahamas.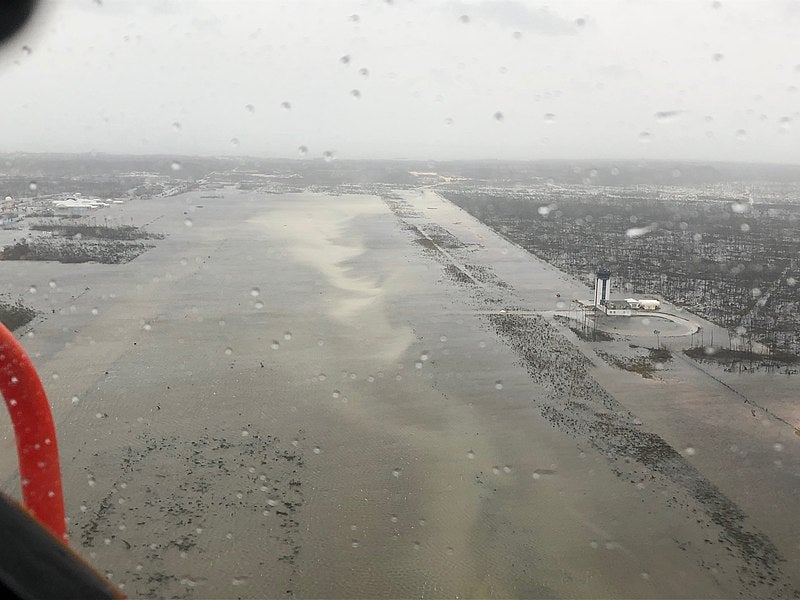 A November 15 report from the Inter-American Development Bank put damage in The Bahamas from Dorian at $3.4 billion—over 25% of their $12 billion GDP. Seventy percent of the losses took place on Abaco, 15 percent on Grand Bahama, and nine percent in other islands. The death toll as of this writing is 69, and 282 people were still listed as missing as of late October. Nearly 29,500 people lost homes or jobs, or were temporarily displaced by Dorian.
Dorian's stall allowed the hurricane's winds to upwell enough cool water to significantly weaken the storm, and when Dorian finally began moving to the north towards North Carolina, it was a much weaker category 2 storm. Dorian made landfall on September 6 at Cape Hatteras, North Carolina as a Category 1 hurricane with 90 mph winds and a minimum central pressure of 956 mb.
Dorian's storm surge brought significant flood damage to eastern North Carolina, particularly on the Outer Banks. Ocracoke Island (population 1000) was particularly hard-hit, and will continue to be closed to visitors until December 2. Parts of Florida, Georgia, South Carolina, North Carolina, and Virginia all incurred damage from Dorian; the hurricane killed ten people in the U.S. and cost $1.2 billion, according to NOAA. Dorian also spawned a political firestorm—Sharpiegate—after President Trump incorrectly tweeted on September 1 that Alabama would "most likely be hit (much) harder than anticipated."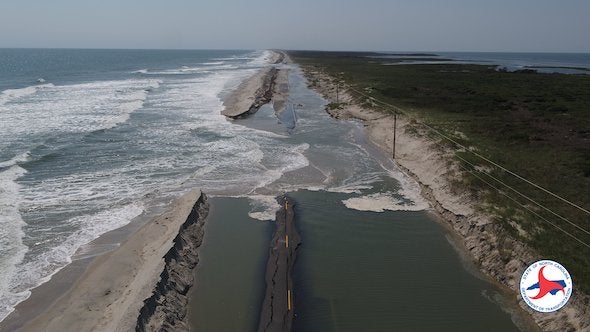 Dorian also hit Canada hard, making landfall in eastern Nova Scotia on September 7 as an extratropical cyclone with Category 2 winds of 100 mph and a pressure of 958 mb. At landfall, Dorian's wind field was huge, with hurricane-force winds that extended out 115 miles from the center and tropical storm-force winds that extended out 310 miles.
Ex-Dorian was the third strongest hurricane or ex-hurricane on record to hit Canada, and its powerful winds and storm surge caused extensive damage in Nova Scotia. According to Environment Canada, Dorian knocked out power to over 500,000 customers in the Canadian Maritime Provinces; 400,000 of these cases were in Nova Scotia—about 80% of the province--which may be their all-time record. Serious coastal damage was reported due to a large storm surge, which reached near-record levels for Halifax Harbor. Damage in Canada was estimated at $79 million.
Imelda: the fifth-wettest tropical cyclone in continental U.S. history
Tropical Storm Imelda became the fifth-wettest tropical cyclone in continental U.S. history after making landfall as a minimal tropical storm with 40 mph winds southwest of Galveston, Texas, on September 17--less than two hours after getting named. At landfall, Imelda was traveling northward at just 5 mph, and it maintained a generally northward motion at between 3 and 7 mph for the next 48 hours, gradually weakening.
This very slow pace allowed Imelda to dump rains of 30 - 44" over a 3-day period across a large area between Houston and Beaumont, Texas. A peak of 44.29" fell near Fannett, Texas, with an extraordinary 31" falling in just 12 hours. Imelda's rains caused catastrophic flooding that killed five and did at least $2 billion in damage, according to insurance broker Aon. During the height of the flooding, numerous vehicles were either stuck or flooded on I-10 between Beaumont and Winnie for 2 ½ days.
Climate change and record ocean heat made Imelda's heavy rains more likely to occur
According to a near real-time attribution study done by scientists at worldweatherattribution.org, two-day extreme precipitation events along the Gulf Coast as intense as Imelda's have become 1.6 to 2.6 times more likely (or 9% to 17% more intense) due to human-caused climate change. They concluded: "climate change has clearly led to increased precipitation during extreme events in southeast Texas." NOAA stated that Imelda brought the fifth 500-year flood that has impacted Southeast Texas over the last 5 years.
Exceptionally warm ocean temperatures off the coast of Texas contributed to Imelda's heavy rains. Texas experienced its second-hottest August and hottest September on record in 2019, and that record heat warmed the waters of the western Gulf of Mexico by mid-September to an all-time record 30°C (86°F)—about 1°C (1.8°F) warmer than average, according to NOAA. For each degree Celsius of ocean warming, about 7% more water vapor can evaporate into the air, and hurricanes can act to concentrate this moisture to generate much heavier rains than a simple linear 7% increase in rainfall per degree C of ocean warming. Human-caused global warming made record hot temperatures like the western Gulf of Mexico experienced in September more likely to occur.
Hurricane Barry causes $600 million in damage and sets all-time Arkansas rainfall records
Hurricane Barry had an unusual genesis—it formed from an organized thunderstorm complex that got its start over Kansas on July 1, which later moved off the Florida Gulf Coast on July 10. Barry became a tropical storm on July 11 and moved slowly to the west at 3 – 9 mph, gradually intensifying, making landfall on the western coast of Louisiana on July 13 as a category 1 hurricane with winds of 75 mph.
Barry's heavy rains and storm surge were the primary cause of the $600 million in damage the storm wrought; fortunately, no deaths or injuries were reported. Rains of 10 – 15" were widespread over southwestern Louisiana, with a maximum storm-total rainfall of 23.58" reported near Ragley, Louisiana. In the Baton Rouge and New Orleans areas, rainfall totals of 4 – 8" were common, and similar totals occurred in southern portions of Mississippi and Alabama. Barry's heavy rains caused additional flooding to occur along the banks of the Atchafalaya River near Morgan City, Louisiana, which was already suffering one of the highest river floods on record before Barry arrived.
Even though Barry weakened to a tropical depression by the time it moved into Arkansas, the storm set the all-time state rainfall record for a tropical cyclone: 16.59" at Dierks, Arkansas. Most of that rain, 16.17", occurred in just a 24-hour period, breaking the all-time state record for heaviest 1-day precipitation amount.
Barry's rainfall record in Arkansas is the fifth state all-time tropical cyclone precipitation record to fall in a span of three years in the U.S. This is pretty remarkable, since all-time state records are difficult to break. Just last year, slow-moving Hurricane Florence shattered the state precipitation record for both North Carolina (35.93") and South Carolina (23.63"), and Category 5 Hurricane Lane broke Hawaii's all-time record with 52.02" at Mountain View on the Big Island. Back in August 2017, Hurricane Harvey stalled over Texas and brought 60.58" to Nederland, Texas, smashing the all-time record not only for Texas, but for the entire U.S. A total of twelve states have beaten their all-time tropical cyclone precipitation records since 2000.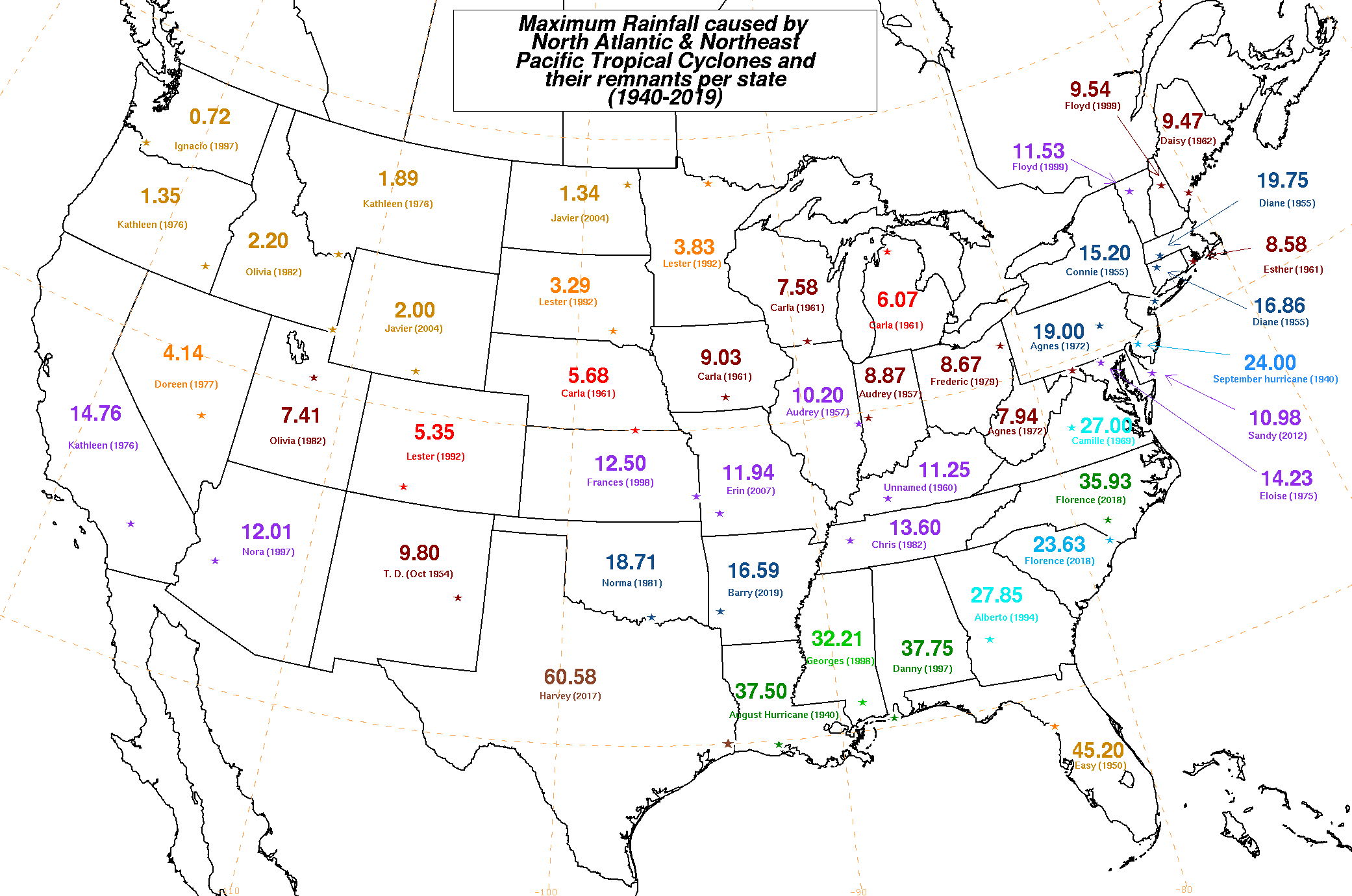 Slow-moving storms like Barry, Dorian, and Imelda are growing more common
As Barry intensified into a hurricane during its three-day trek along the Gulf Coast, the storm moved at an excruciatingly slow pace—only 3 – 9 mph. Similarly, Tropical Storm Imelda moved at just 3 – 7 mph during its slog northwards over eastern Texas, Hurricane Dorian stalled over The Bahamas for multiple days, and Tropical Storm Fernand was moving at 7 – 8 mph during the two-day period surrounding its landfall. The slow motion of these storms was a key factor in the damage they wrought; on average, tropical cyclones move at about 11 mph, and storms moving slower than that are more likely to dump heavy rain.
As I detailed in a post at the Weather Underground Category 6 blog in September, Slow Moving Atlantic Storms Like Imelda and Dorian Are Growing More Common, Barry, Dorian, Imelda, Harvey, Florence, and Lane were all examples of slow-moving hurricanes that stalled near the coast, enabling them to dump record-breaking amounts of rain. Such storms have grown increasingly common in recent decades, according to research published in 2018 and 2019 by NOAA hurricane scientist Dr. Jim Kossin. His research found a 17% slowdown in the forward speed of tropical cyclones over land areas of the continental U.S. from 1900 to 2017. In an email, Dr. Kossin said, "the vast majority of the models consistently predict a slowing of the tropical circulation due to human-caused global warming. So, in my opinion, given that tropical cyclones are somewhat passively carried along in these winds, a reasonable hypothesis is that they are slowing down with warming. This is fairly compelling evidence for a human fingerprint on the slowing we're observing."
Hurricane Barry exposes New Orleans' Achilles Heel
New Orleans dodged a major bullet with respect to Barry's storm surge. Ordinarily, the storm surge from a category 1 hurricane would not be a threat to the New Orleans levee system, which received a $14.5 billion upgrade after Hurricane Katrina of 2005. The upgraded levee system is designed to withstand a category 3 hurricane, and successfully held back a storm surge of approximately 10' from category 2 Hurricane Gustav of 2008 and category 1 Hurricane Isaac of 2012.
But as I detailed in my July post, New Orleans' Achilles Heel: A Hurricane Storm Surge During a Mississippi River Flood?, the New Orleans has an Achilles Heel which makes it vulnerable to the storm surge from a category 1 hurricane—the levees along the Mississippi River. Although these levees lie more than 100 miles upriver from the Gulf of Mexico, five hurricanes over the past 50 years—Betsy (1965), Katrina (2005), Georges (1998), Isaac (2012), and Gustav (2008)—have pushed storm surges of seven feet or higher upriver to New Orleans. If a surge that high moves upriver when the Mississippi River is at flood stage, the levees could be overtopped.
The U.S. experienced its wettest 12-month period on record ending in June, putting the Lower Mississippi River at flood stage for the longest period on record. At the time Hurricane Barry formed, the river was just four feet below the tops of the levees in New Orleans, putting the city at risk from a storm surge moving up the river from just a category 1 hurricane.
Indeed, the official forecast from NOAA predicted that scenario on July 10, three days before Barry made landfall (Figure 6). A storm surge of 4' was predicted to move up the Mississippi River to New Orleans, which would have been high enough to overtop the lowest portions of the levees protecting the city. Fortunately, Barry intensified more slowly than predicted, and the winds of the storm were not strong enough to bring a significant storm surge to New Orleans. At the mouth of the Mississippi River, Barry brought a storm surge of 2.5', and a surge of about 1' was observed along the Mississippi River at New Orleans. Barry brought a damaging storm surge of 4 - 6' to the central Louisiana coast, 2 – 4' along the southeast Louisiana coast, and 2 – 3' along the Mississippi and Alabama coasts.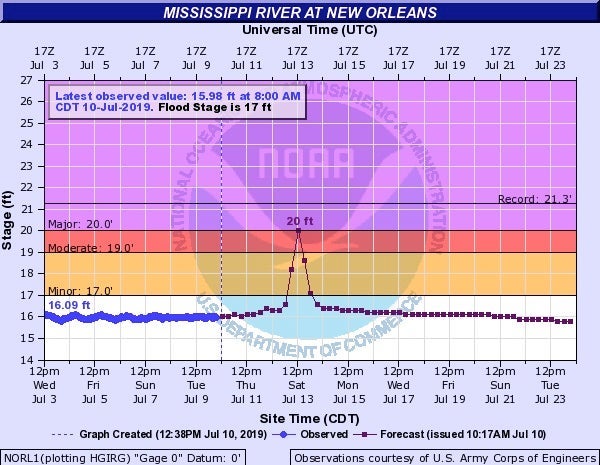 Hurricane Lorenzo becomes the easternmost Atlantic cat 5 and most destructive Azores storm on record
Hurricane Lorenzo intensified into a category 5 hurricane with 160 mph winds at 45°W on September 29, becoming the easternmost Atlantic category 5 storm on record. Lorenzo spent 3 ½ days as a major hurricane east of 45°W—the longest period of time on record that a major hurricane has existed so far to the east (previous record: 1.75 days by Hurricane Carrie in 1957).
The French ocean tug Bourbon Rhode capsized in huge waves spawned by Lorenzo on September 27; among its fourteen crew members, three were rescued, four drowned, and seven remain missing. A NOAA hurricane hunter aircraft on a research mission into Lorenzo was diverted to search for survivors.
Throughout late September and early October, huge swells radiated from the hurricane's massive wind field, impacting much of the Atlantic basin. More that 2000 miles west of the storm, four people drowned in rip currents along the coast of North Carolina, and two people died after being swept away by large waves along the coast of New York.
A weakening Lorenzo passed 55 miles north of Flores Island in the Azores on October 2 as a Category 1 hurricane with 90 mph winds. Lorenzo brought sustained hurricane-force winds of 74 mph to nearby Corvo Island. Winds of this strength have rarely been experienced in the Azores, and Lorenzo caused major damage, particularly on Flores. The government estimated damage at $367 million--primarily to port infrastructure—making Lorenzo the costliest hurricane in Azores history. According to EM-DAT (the international disaster database) and National Hurricane Center storm summaries, there are no records of any other hurricane causing significant damage in the Azores.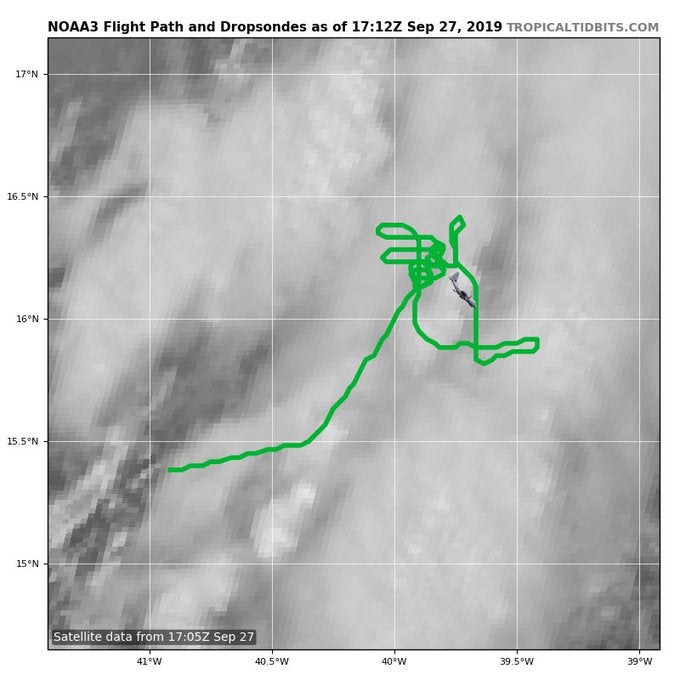 Other notable storms of the 2019 Atlantic hurricane season
Tropical Storm Fernand made landfall with 45 mph sustained winds in northeast Mexico, about 140 miles south of the Texas border, on September 5. Due to Fernand's slow forward motion of 7 – 8 mph the day before and the day after landfall, the storm was able to dump unusually heavy rains that caused extreme flooding. Fernand's floods killed one person and caused over $250 million in damage, according to Aon.
Hurricane Humberto tracked very close to Bermuda on September 19 - 20, bringing wind gusts over 100 mph to the island. No widespread severe damage was reported, but damages from the storm are expected to top $2 million, according to Aon.
Tropical Storm Nestor came ashore in the Florida Panhandle on October 19 as a post-tropical cyclone with 45 mph winds. Nestor brought heavy rainfall, flooding, and severe thunderstorms across Florida, Georgia, and the Carolinas, with damage estimated at $150 million, according to Aon.
Tropical Storm Olga formed in the Gulf of Mexico on October 25 and its remnants made landfall in Louisiana the next day after being absorbed by a cold front. Olga's remnants brought torrential rains, flooding, severe thunderstorms, and wind gusts topping 70 mph. One death was blamed on the storm, and damage was estimated at $100 million by Aon.
Hurricane Pablo became the sixth Atlantic hurricane of 2019 on October 27 unusually far to the north—at 42.8°N, near the latitude of Boston. Only one other storm since 1950 reached hurricane intensity at a farther north latitude. Pablo also became a hurricane at the farthest to the east that an Atlantic storm has first become a hurricane: 18.3°W. Previous record: 18.9°W by Hurricane Vince (2005).
Tropical Storm Rebekah became a named storm on October 30 at 38.3°N—the farthest north that an Atlantic named storm has formed this late in the calendar year since Subtropical Storm Two developed on December 9, 1975.