World Intellectual Property Day fell on April 26 this year. The theme was "Powering change: Women in innovation and creativity," so it's an appropriate time to analyze the gender distribution of scientists and inventors in science, technology, engineering and mathematics (STEM) in several different ways. The bottom line is that while women have made gains, they are significantly under-represented—a trend that begins in higher education and continues into the workplace.
WOMEN IN INNOVATION
Patents are one useful trend for measuring innovation, and we found the imbalance between female and male inventors with U.S. patents is particularly pronounced. New research shows that, for a sample week in 2017, just 9.2 percent of the U.S. patents that were granted were made by female inventors (Figure 1).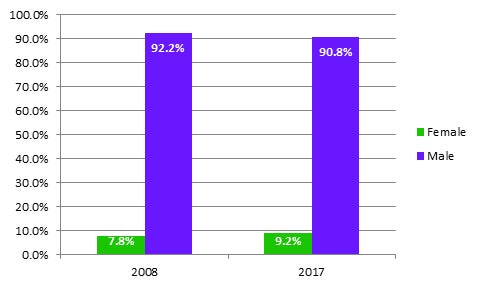 Small as the proportion of women is, it's increasing. For the same sample week 10 years earlier, the proportion of U.S. patents with a named female inventor was just 7.8 percent. That represents a growth of 18.2 percent over the 10-year period.
Historically, moreover, some patents granted to women have had an especially huge impact. Stephanie Kwolek, for example developed Kevlar, which has applications that include skis, bows, mechanical belts, industrial hoses and bulletproof clothing. And the ubiquitous, flat-bottomed paper bag was patented in 1871 by Margaret Knight, who went on to get 86 other patents in areas as varied as shoemaking and the rotary engine.
While these examples highlight the creativity and innovation that women can bring to STEM fields, we can surely do better at creating an even playing field for female inventors.
WOMEN IN THE EDUCATIONAL SYSTEM
In order to address the problem, we must first understand it. Perhaps obstacles to female entrance lie in early recruitment, as girls are less likely to consider STEM fields as viable career paths.
The ratio of female to male primary school students globally has risen steadily from 0.802 in 1970 to 1.005 in 2016. Developing economies drive much of this growth. For example, in China, the gender ratio has risen 39 percent from 0.725 in 1974 to 1.006 in 2016. Developed economies have shown less fluctuation, with the U.K. demonstrating minimal change from 0.995 to 1.007 over the same period. Similarly, the U.S. ratio has varied only slightly more from 0.982 and 1.027, still reflecting less than 5 percent growth.
By the time students reach higher education, girls outpace boys. In the U.K., university entry rates between men and women widened by 0.4 percent in 2016 to 9.6 percent—the largest difference ever recorded by UKAS, the U.K. university admissions body. In the U.S., the female-male college student ratio has also grown rapidly, from 0.7 in 1970 to 1.3 in 2015.
SCIENTIFIC PUBLICATIONS BY GENDER
Once students graduate and enter their research fields, gender imbalances quickly emerge as measured in scientific publications. The number of male scientists contributing to scientific publications published by U.S. institutions during 2017 outnumbered women's publications by slightly less than two to one. While disturbing, this finding reflects a mild positive shift from a ratio of 31.7 percent to 68.3 percent 10 years ago, reflecting growth in female representation by 5.9 percent (Figure 2).
This evidence indicates that more women are entering and contributing to STEM fields, and, while this is encouraging, there is still work to be done.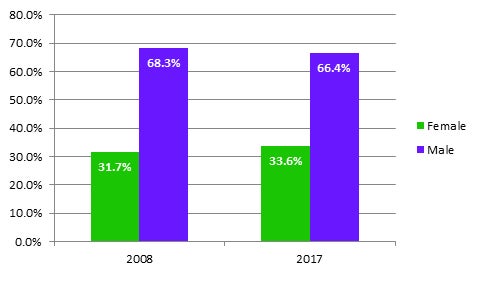 We also find revealing imbalances within individual research areas, as men continue to dominate subjects such as computer science, engineering, technology and the physical sciences. Women outnumber men at the highest percentage in nursing, followed by psychology, social work, education and design.
Therefore, perhaps, the fact that fewer patents are granted to women is at least partly the result of the research areas that female scientists pursue, as these are less likely to involve patent filing. 2017 data on U.S. female scientists' research specializations reveals focus areas in general health care, biological sciences, mental health and women's heath (Figure 3). Only 5 percent of U.S.female scientists specialize in "science, technology and other topics."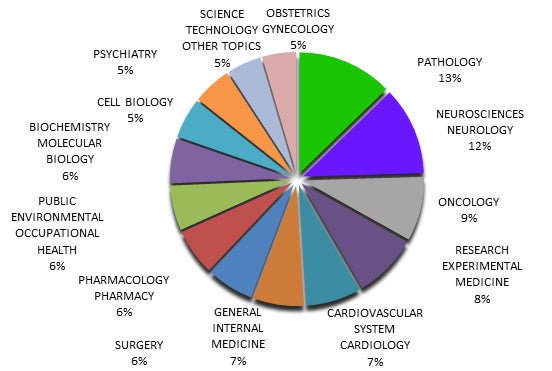 These statistics illustrate a powerful need for not only more women entrants to STEM, but also increased recognition of their contributions and research. The theme of this year's World IP Day offers a timely opportunity to not only showcase and honor the contributions of female inventors, and but also to continue to challenge a status quo that keeps women scientists from growth and recognition.