You, as a scientist, are called to serve humanity with your mind.
If you are anything like me, your desire to understand climate change sends you searching for data. As our access to data grows, we as individuals and collectively are deciding on evidence-based climate solutions. I wonder what climate solutions you have implemented based on data; maybe you saw a chart on the emissions of meat and changed your diet.
I wonder what climate solutions you have told others to do; maybe you advised your city on building a sea wall. Your voice has value to the public explicitly because you question everything. When we consider the data for climate solutions, I must ask: whether, when, and how the experiences of women matter. Do women's lives count?
There is growing evidence that the epidemic of missing and murdered indigenous women (MMIW) is directly linked to fossil fuel production. According to Seeding Sovereignty, "there is a direct correlation between increased rates of sexual abuse, trafficking and domestic violence against women and children in regions where fossil fuel extraction companies set up 'man camps' to house workers." The link between oil extraction and violence is there. The high rates of sex trafficking of Native women and girls is there.
This connection is even understood at the level of the U.N., because the pattern has been repeated for ages all over the world, specifically in indigenous communities. The evidence exists because Native women are gathering it themselves when our institutions refuse. If you demand more data on this issue, it is there for the finding.
We are all complicit in the funding of fossil fuels and this continued violence against Native peoples. The banks we use every day continue to invest heavily in fossil fuel extraction. According to a recent report, the top four banks dumping money into fossil fuels are JPMorgan Chase, Wells Fargo, Citi and Bank of America. These are also the four largest banks in the U.S. Not only do our tax dollars subsidize fossil fuels, it's quite possible that the interest a bank earned on your student loan is being lent to oil companies. It's quite possible that the retirement funds of professors are invested in oil. It's quite possible that the endowment of the institution where you studied is in oil. I dare you to call the number on the back of your credit card and ask how many man camps your money has built this year.
You have untapped power. The institutions around us are heavily influenced by scientists just like you. Where we focus our inquiry, how we allocate our resources, and what questions we ask-—these are within the locus of control of a scientist. Scientists are the ones telling institutions which climate impacts to focus on and which solutions deserve funding. You get to decide whether to include the lived experiences of women in your work. I believe women. Do you?
Those who are willing to be part of the solution must go beyond the data because we are losing our sisters. The women featured here are leading the way—they lead direct actions to bring awareness to this issue. On April 10, they led an action to occupy Chase banks in Seattle, with MMIW as the central focus. We can't wait for the incremental changes of another data set, another publication, another symposium. What we need is for our voices to create transformational change. Will you grow brave when you hear the words of women?
You, scientist, you are called to serve humanity with your heart.
Roxanne White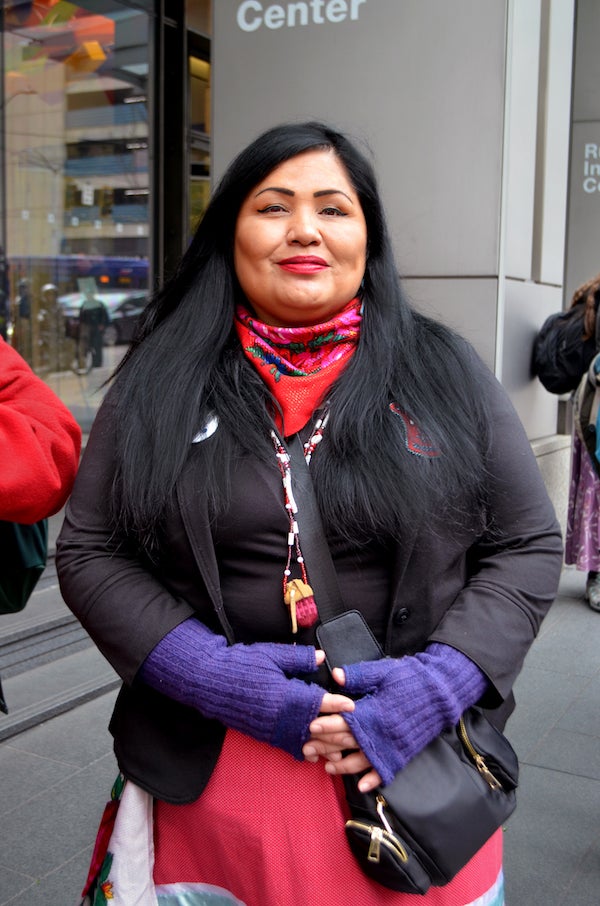 "The first man camp was in 1492. They came and for the first hundred years they were here, they set up camp and they had brothels. There were people—there are people—that enslave human beings, that rape women, and they brought that here. They abused and they murdered and raped our grandmothers, our ancestor people. Those were the first man camps.
Today what our man camps look like—they're all over. Here on the water [in Seattle] we have ships. Those ships go into Alaska and they set up for their cruise on Alaskan land, on indigenous lands, wherever they go—if it's a farm or if it's an oil Bakken—whatever it is, they set up and they bring in cheap labor of predominantly men that aren't from our communities. Men that don't know us, that have no ties to us, and that don't respect our people, our women, our children.
They don't respect Native people because history has portrayed us as savages, as drunks, as homeless people. As disposable. That's what this country has said, time and time and time again, they have sent this message out that we are not protected. You can go and take the life of an indigenous woman or girl, you can murder a Native man, and nothing will happen to you.
That's what this country has been saying about our people—about our women—and these man camps, they're coming up all over the place. There's one right now in South Dakota, they said 600 modules; those modules are like trailers and they will house men that might be violent offenders, sexual predators, drug dealers. They have access to a lot of money, and they bring in drugs. They're a big part of the trafficking and that's the studies that we're seeing."
Rachel Heaton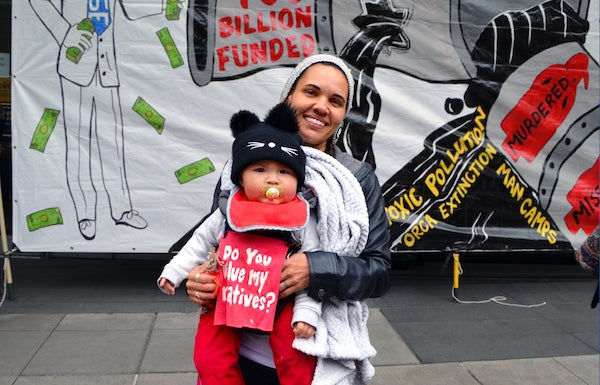 "Mazaska Talks gave us a platform to bring out issues that were important to our communities. In a lot of our bank actions we talk about missing and murdered Indigenous women, which is an issue that affects our community. When pipelines are built, these man camps are also built, and that's when our remote reservations that are out in Montana and North Dakota—these huge concentrations of women—Native women particularly—go missing.
Also, there's the human trafficking that occurs along the borders. We have the highest rate of trafficking, and murder is the third cause of death for our people. The result of these man camps is that women go missing but they're never searched for, so there's all this injustice where all of these women have not been looked for."
Pamela Cəlalákəm Bond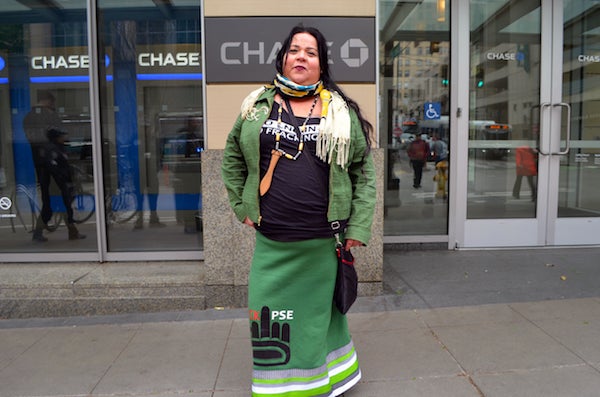 "The thing with climate change, and the thing with colonization, and the thing with what's happening to indigenous people—with the horrific number of women and children that are missing—you have to remember that more than half of that is men. Out of all the indigenous people that are missing and murdered, our men are 65 percent of those disappearing. So, while I love our women, our men and their sacred breath is not less sacred than a woman's sacred breath.
Our indigenous people are missing at a higher rate than any other nationality of people and it comes with man camps. It comes with the continued oppression and environmental genocide—a cultural genocide that continues to happen today. These man camps that follow the black snake are where the trafficking is happening. If you put a pin marker in every place where indigenous women are missing they're in very close proximity to man camps and pipelines. So that black snake doesn't just pollute the land and the water it's on—it's consuming indigenous people."