In the annals of prolonged infrastructure projects, some come with a degree of whimsical charm. The Notre Dame took 107 years to build (an expression still used in French today to describe when something takes "forever") and the Sagrada Familia construction in Barcelona will go until 2026, at least according to the latest update. Other projects are less charming such as the unfinished highway in Cape Town or the Berlin-Brandenburg Airport both causing heart palpitations among engineers and citizens alike, especially since these are essentially self-inflicted and preventable messes.
The aforementioned transport issues should give pause to anyone thinking that quick-fix technologies can solve these; rather, there is a need for more focus on institutional capacity-building, enforcement by the coordinating entity as well as integrated planning, all ahead of time.
As an on-going case study of these issues, the metro projects in Vietnam – the first of their kind in the country – have the potential to transform Saigon and Hanoi into modern cities with efficient, clean, and accessible mobility for all. However, the increasing delays, cost overruns, inability to disburse funds, lack of enforcement across contractors, may together result in a 'poisoned well' for public transit users if this continues unabated.
The metro systems are being built by a range of international contractors, but they have been held up by range of delays, which are certainly not exclusive to Vietnam (see above), and are in part quite reminiscent of Bangkok's recent 'Purple Line' debacle; another transport fail caused not by a lack of technological options, but due to a lack of proper planning and enforcement.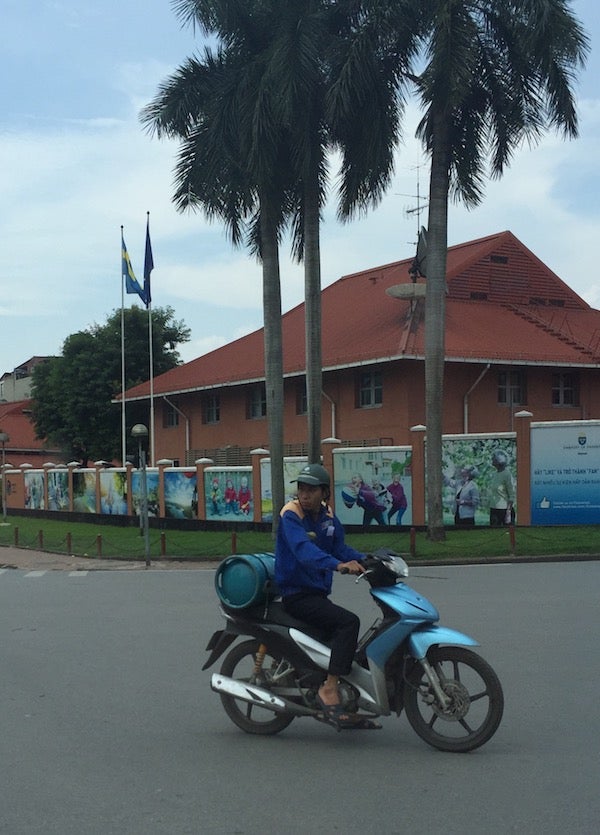 Saigon Metro's first line cost has now tripled compared to its initial cost and is scheduled to go into service eight years after construction started. Its second line, the Ben Thanh-Tham Luong 20 km (12 mile) line, is now two years delayed (scheduled to open in 2020) with cost overruns already at 800 million USD.
A common issue you see in these types of projects is the inability to disburse funds. This seems like a nice problem to have, right? Spending money should be the easy part, right? Wrong. Just look at what happened to donations to Nepal after its horrific earthquake.
In Vietnam, contractors are starting to slow down work until they get their funds, even Japan's aid agency has taken to criticize the work, and there are already dire warnings of what will happen if it continues at the current pace with Saigon asking for a rescue package.
It is not all doom-and-gloom, but these recurring issues should serve as much-belated wake-up calls to Vietnamese officials (and others endeavoring the same scale of public transport systems), that agreeing to the concept of a large-scale public transport project is not enough, you need to early on take over-arching and full responsibility for implementation and coordination across contractors to avoid quality issues, as well as entirely preventable issues concerning system integration.
Or put plainly, how can it be that users of metro systems that have not yet been completed will have to exit-and-enter one line to get into another as well as be forced to use a different ticketing system? I'll give a pass to 100-year old legacy systems, but a brand-new one? We could expect more from public transit, but until we learn our lessons from the numerous old and on-going examples, the metro projects in Vietnam will be par for the course.