The role of technology in tracking the spread of COVID-19 continues to expand, along with global efforts to flatten the curve and arrive at solutions. But some question if technology will go too far in keeping us safe.
Many tout tracking apps as successful and critical in stemming the tide in countries like China, South Korea and Israel. Such phone-based apps track users' symptoms and/or locations to help identify and alert people who have come into contact with those who are infected, and to help enforce self-quarantine rules.
Citing an infringement of constitutional rights and freedoms, leaders in the United States have so far been hesitant to adopt such technological approaches, but that may be about to change.
Apple and Google created buzz with their recent announcement of new Bluetooth functionality specialized for coronavirus tracking, a capacity that will be used in partnership with public health authorities. In a similar vein, MIT reported that its tracking app was gaining traction with state and local governments.
Whether or not people will want to install such an app remains a deeper question.
Keeping these apps from being mandatory is important for protecting civil liberties. Yet, for these apps to be most effective, a significant portion of the population must adopt them.
This may be difficult to achieve in an environment where people are increasingly leery of companies and the government tracking their every move. A 2018 study shows 67 percent of U.S. consumers are ready for stricter data privacy regulations such as the General Data Protection Regulation in the European Union. And 73 percent said their concerns over personal data privacy were increasing.
While authorities in places like Hong Kong and Israel have implemented mandatory surveillance, the U.S. has not imposed such measures. Americans expect to have a choice about whether to install coronavirus tracking apps, but will this desire to have a choice compromise their health?
But what if there are ways to encourage coronavirus tracking app adoption?
In early April, as a professor of communication at the University of Zurich (Eszter Hargittai) and a researcher of security and privacy at Microsoft Research (Elissa M. Redmiles), we surveyed 1,374 adults across the U.S. about their willingness to install a coronavirus tracking app. Two thirds of Americans reported that they are willing to install an app that would help slow the spread of the virus and reduce the lockdown period, even if that app would collect information about their location data and health status.
People whom the Centers for Disease Control has identified as being higher risk, those who are younger and those who are more technologically savvy were more likely to be willing to install such an app. Those with different levels of education, genders, races and incomes were all equally likely to be willing to install.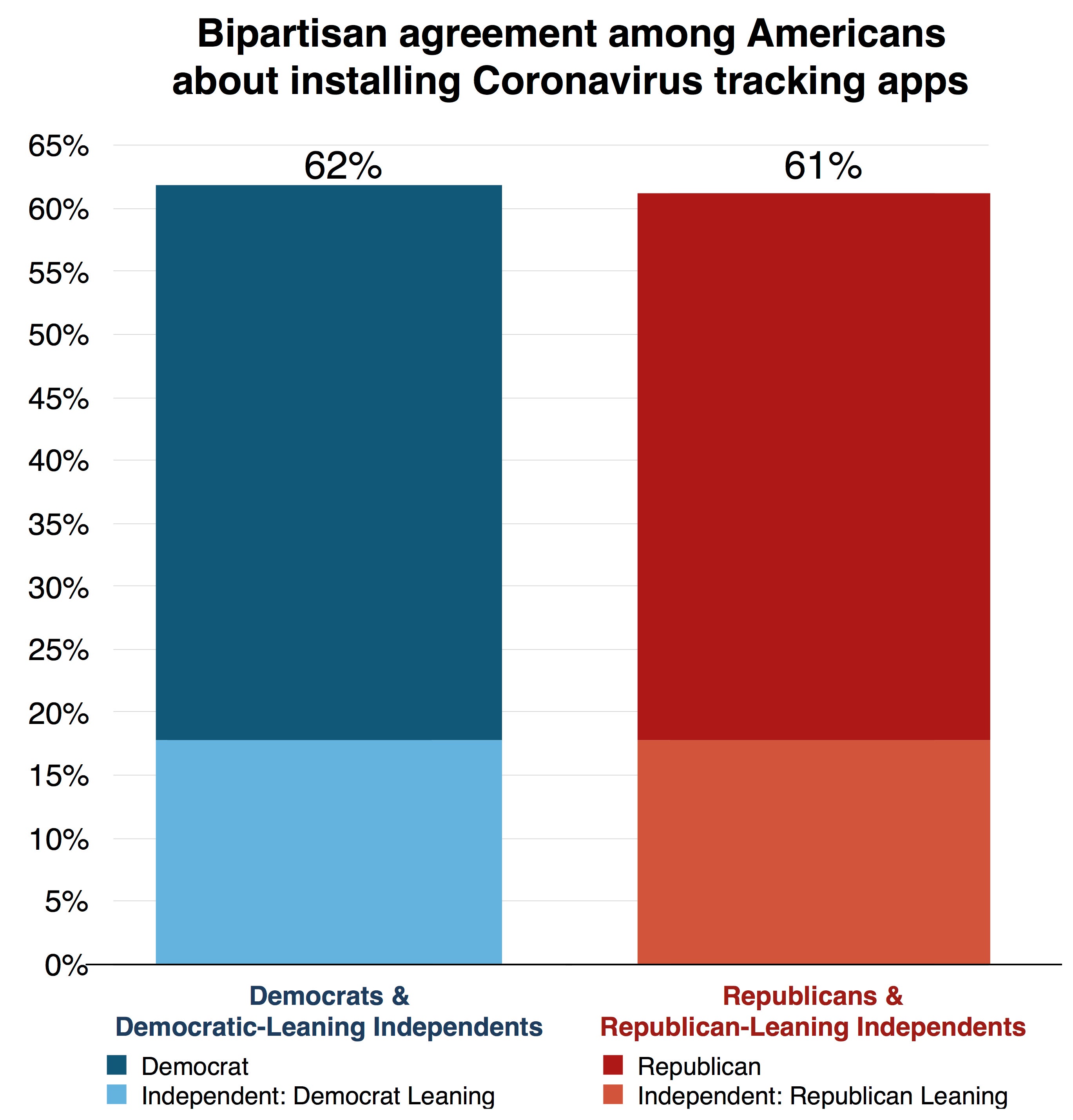 A rarity in an increasingly partisan country, our survey found that Americans across the political aisle are unified in their willingness to install coronavirus tracking apps. The proportion of Republicans and Democrats who were willing to install such an app was statistically indistinguishable: 62 percent among Democrats, 61 percent among Republicans.
However, we found considerable variation in willingness to install such an app depending on who was distributing it. People in our study could choose as many distributors as they wished, yet just over half picked no more than one possible provider. This suggests that who is providing or encouraging the use of a coronavirus app may be a significant factor in uptake.
More Americans are willing to install a coronavirus tracking app provided by a public health agency like the CDC or by their health insurance provider than one distributed by the federal government or their local government in general without specification as to the distributor agency.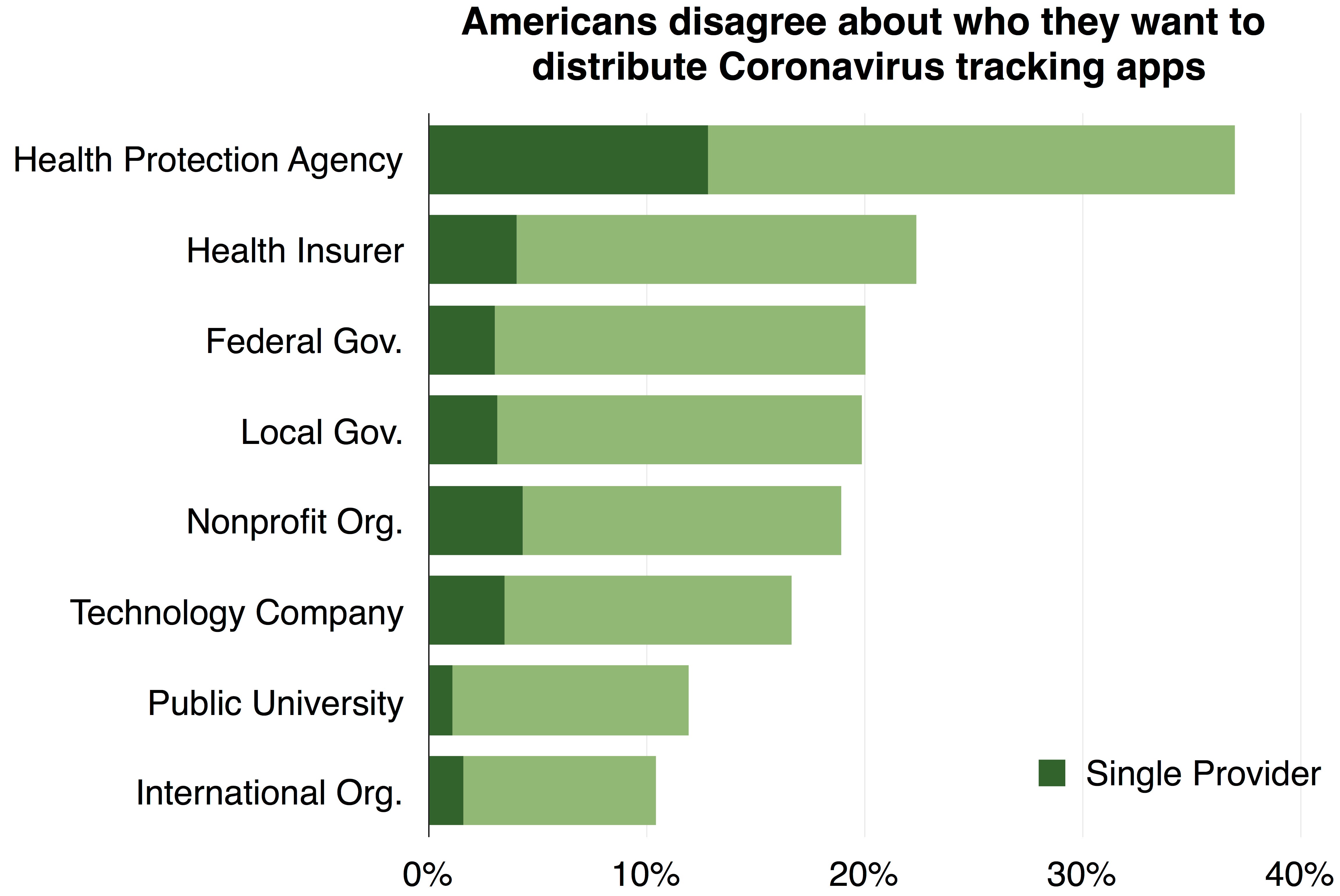 Just over a third of Americans were willing to install such an app if it is provided by a public health organization like the CDC. Thirteen percent were willing to install a coronavirus tracking app only if it was from such a public health organization.
But Americans are least willing to install apps from these sources. Tracking apps distributed by universities and international groups make up more than half of those currently available. Only 11 percent of Americans, however, are willing to install such an app if the main public university in their state distributes it, while 9 percent are willing to install an app provided by an international organization like the United Nations or World Health Organization.
The wide variation in people's preference for app providers suggests that the market should offer multiple apps from different providers, which can appeal to different people's preferences.
Essential, though, is that these distributors form a coalition to share base technology for data consistency, privacy, and interoperability, maximizing the number of people who adopt these apps and their resulting public health power.
People are rightly concerned about privacy risks from apps that track their activities given that such exposure can result in significant risks. Ensuring that multiple different apps are available will allow consumers the autonomy to select an app that collects only data they are comfortable sharing.
A diverse yet cooperative marketplace of coronavirus apps will allow people to identify an app that best suits their needs and level of data-sharing comfort, while supporting public health goals.
Ultimately, the research shows there is no single, authoritative provider from which all Americans would be willing to install a coronavirus app. The CDC, which according to our study is the most trusted for distributing a coronavirus tracking app, seems to come closest.
Americans unwilling to install such an app need to decide quickly whether their reservations are worth risking more lives.
---