Americans' trust in medical scientists has grown since the coronavirus outbreak first upended everyday activities at workplaces, homes and schools across the nation. But there are growing divisions between Republicans and Democrats in the confidence they have in medical scientists. These partisan divides extend to perceptions of the risk posed by the novel coronavirus to public health and to views on measures to control the spread of COVID-19. Nonetheless, both Democrats and Republicans are optimistic that scientific efforts to deliver a vaccine will come to fruition within a year.
The pandemic shines a spotlight on scientists—including medical scientists, public health experts and other scientific specialists—and their role advising government leaders, informing the public, working on the front lines of patient care and leading research efforts to find treatment and prevention options for the coronavirus.
A national survey from Pew Research Center conducted in late April with more 10,000 U.S. adults finds 43 percent of Americans say they have a great deal of confidence in medical scientists to act in the best interests of the public, up from 35 percent before the outbreak. A large majority continues to say they have at least a fair amount of confidence in medical scientists.
Medical scientists (and scientists, generally) stand out from other groups rated in the survey in how they are viewed by the public. The share of Americans with the strongest level of confidence in medical scientists now exceeds the 38 percent who express this level of confidence in the military, and it is far greater than the shares who say they have a great deal of confidence in groups such as journalists and elected officials.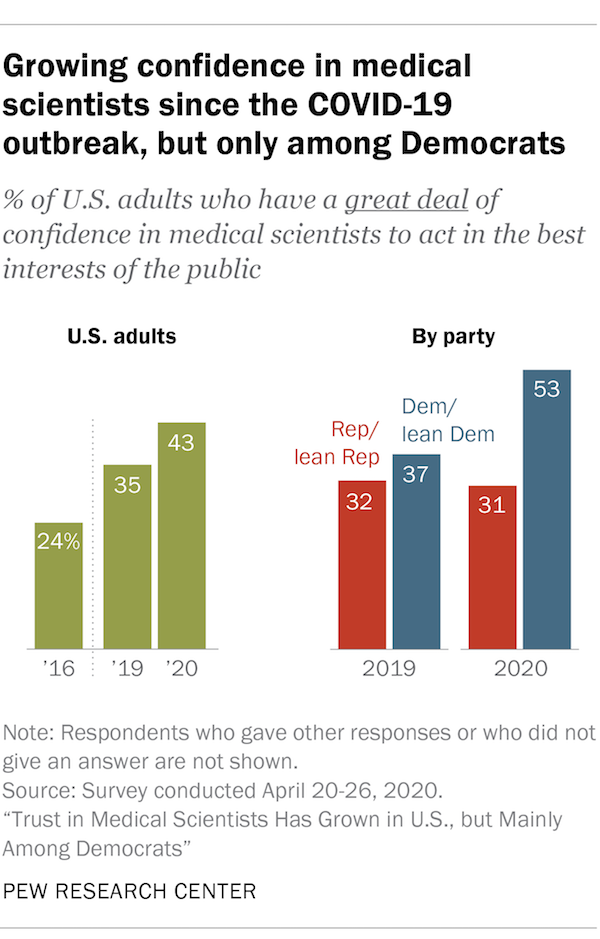 But trust in medical scientists has turned upward only among Democrats, not Republicans. Fifty-three percent of Democrats and those leaning to the Democratic Party have a great deal of confidence in medical scientists to act in the public interest, up from 37 percent in January 2019. But among Republicans and those who lean to the GOP, 31 percent express a great deal of confidence in medical scientists, roughly the same as in 2019 (32 percent). As a result, the partisan gap in confidence in medical scientists has widened from just 5 percentage points in 2019 to 22 points today. Partisan gaps over trust in medical scientists now echo past Center surveys that found Democrats express far higher trust than Republicans in climate scientists and the information they produce.
One of the striking aspects of Americans' initial response to the outbreak has been the degree of public support for unprecedented restrictions on public activity. For example, about nine in 10 Americans said measures to reduce the spread of COVID-19 by imposing travel restrictions, canceling major sporting and entertainment events, closing K-12 schools and limiting social gatherings were necessary, according to a Center survey conducted March 19-24.
But public opinion has been shifting during the crisis. Pew Research Center surveys find growing partisan division over the risk the novel coronavirus poses to public health as well as over social distancing measures and restrictions on public activity aimed at slowing the spread of the disease.
From late March to early May, the share of Republicans who view the outbreak as a major threat to the nation's health dropped nine points, from 52 percent to 43 percent, while views on this issue among Democrats increased slightly from 78 percent to 82 percent. Democrats are now nearly 40 percentage points more likely than Republicans to consider the coronavirus a major threat to the health of the population.
About six in 10 Americans (59 percent) view social distancing measures—which were still in place across much of the country at the time of the survey—as helping a lot to reduce the spread of the disease, although this belief is more common among Democrats (69 percent) than Republicans (49 percent).
As states grapple with the process of lifting restrictions, the public strikes a cautious tone: 68 percent say their greater concern is that states will lift restrictions too quickly, rather than not quickly enough. But here again, the partisan gap in views is large, and Republicans and Democrats are moving in opposite directions. Since April, Republicans have grown more concerned that restrictions will not be lifted quickly enough, while Democrats have become increasingly concerned that restrictions will be lifted too quickly. In the most recent Center survey, nearly nine in 10 Democrats (87 percent) say their greater concern is that states will lift restrictions too quickly; Republicans are closely divided between concern that restrictions will be lifted too quickly or not quickly enough (47 percent to 53 percent).
Partisan groups also differ over the reasons behind continued coronavirus infections, particularly around the roles of testing and social distancing. Three quarters of Democrats (75 percent) consider too little testing a major factor behind new disease cases in the U.S. compared with 37 percent of Republicans. Seven in 10 Democrats believe a major reason for new cases of coronavirus is that not enough people are following social distancing measures. About half of moderate or liberal Republicans (49 percent) and 36 percent of conservative Republicans agree that this is a major reason behind new cases of coronavirus.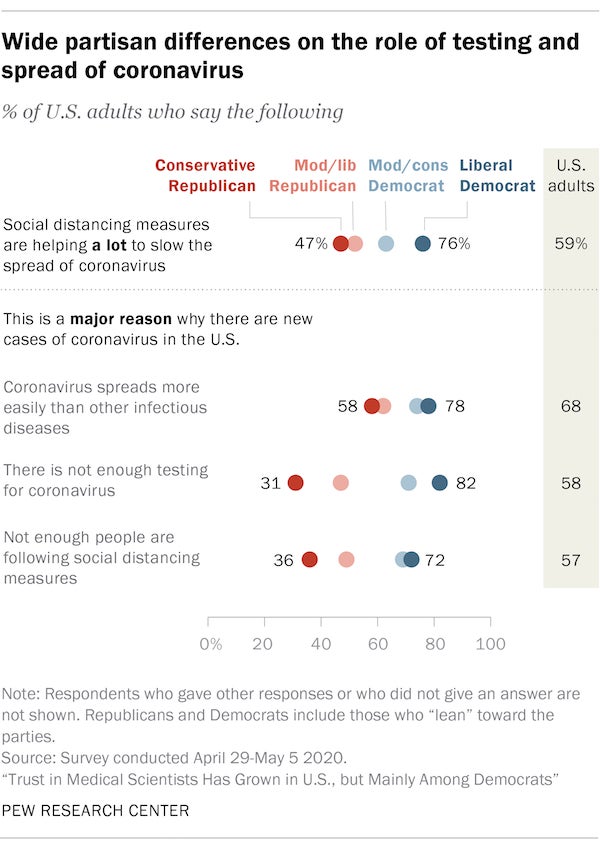 While partisan gaps in views of the coronavirus outbreak are common, there remain important differences of opinion within both parties, especially within the GOP. For instance, the minority of Republicans who view the outbreak as a major threat to public health are much more likely to take a more cautious approach to states reopening and to view the impact of social distancing positively than their fellow partisans.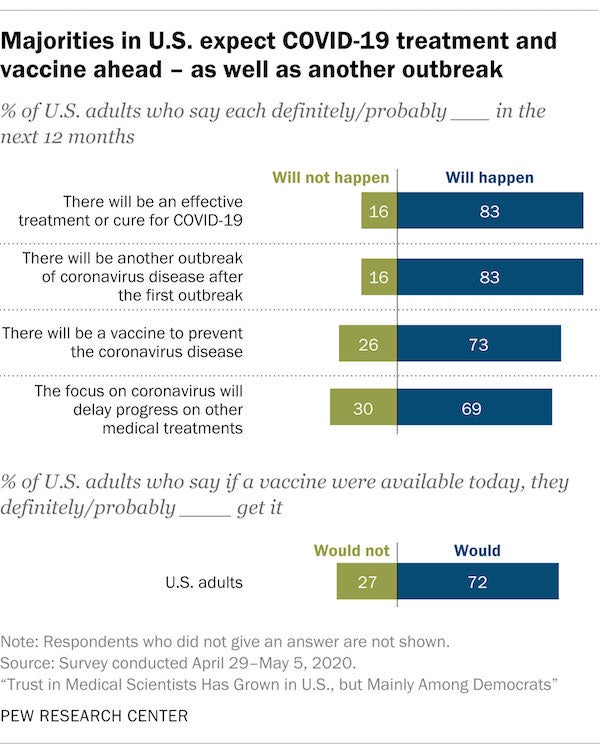 Looking ahead, there is shared optimism about scientific efforts to confront COVID-19. Large majorities of U.S. adults, and members of both parties, expect the year ahead to include an effective treatment or cure for COVID-19 (83 percent) as well as a vaccine to prevent the disease (73 percent). And 72 percent of U.S. adults say they would definitely (42 percent) or probably (30 percent) get a coronavirus vaccine if one were available today, while about a quarter (27 percent) say they would not. Majorities across a range of demographic groups say they would get the vaccine. Most Democrats say they would get vaccinated by a margin of 79 percent to 21 percent. Republicans are slightly less inclined; 65 percent say they would definitely or probably get a vaccine while 34 percent say they would decline.