But there is a strategy that could be implemented within a year at a reasonable cost. It would enable societies to halt the spread of emerging infectious diseases before they reach the pandemic stage. The concept combines real-time public health surveillance, next-generation sequencing technology and modern network communication and contact tracing.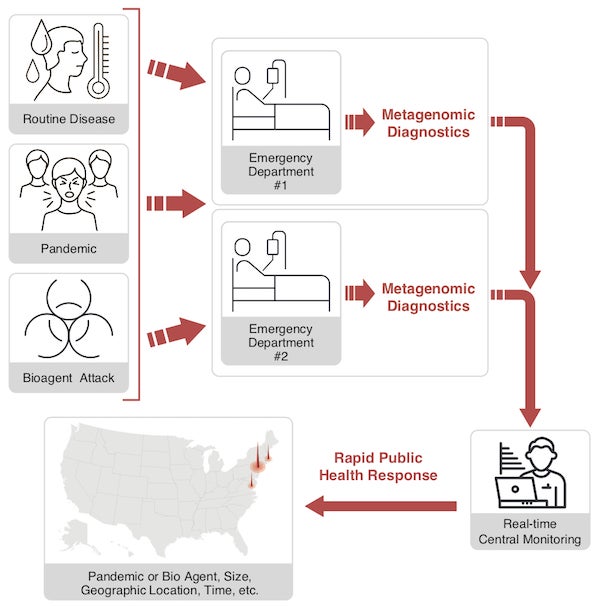 How many people are infected?
Where are they located?
When were the infections contracted?
With whom have these patients been in contact?
So how much time might be saved with the proposed surveillance architecture compared to the current system? The current methods we use to identify patients sickened with an agent of public health or security concern is based upon the "astute physician" model. That is, we depend on doctors' clinical judgment to identify suspicious infections and send samples to a public health laboratory. The problem is that it is easy to miss an unusual event because symptoms from many different infections are very similar (think of the term flulike).
I asked a number of my colleagues in emergency medicine and public health how long they thought it would take to identify a novel, potentially dangerous infection. The response was highly variable, ranging from a few days to several weeks. There was consistent agreement that the answer is highly dependent on the infectious agent; the skill and experience of the physician; and the proximity and expertise of public health laboratory.
In a published study based on actual case presentations from the 2001 anthrax attack, only six of 164 physicians from civilian and military hospitals who reviewed the case reports suspected anthrax as a possibility. Thus, the performance of the current system is poorly understood, even by experts. However, most believe that, unless the infection occurred in a significantly large number of people and resulted in significant mortality, the event might take a very long time to identify, compared to a single day with the proposed surveillance architecture. Of course, in a geometrically progressing infection scenario, the early days are the ones that matter most for containment.
Read more about the coronavirus outbreak from Scientific American here. And read coverage from our international network of magazines here.