"So, will we have a cure for cancer anytime soon?" I cannot emphasize how many times I have been asked this question in social situations. I'm certain my fellow cancer professionals in academia, industry and the clinic can recount similar experiences. There is a big gap in public understanding of the roadblocks involved in cancer research and a lack of appreciation for the hurdles that await new therapies coming from the lab before they make it to the patient.
In the fall of 2017, I came across a blog post titled "Naughty Crabby," a tale of a cancer doctor who had spent his career communicating bad news to his patients—and who had to tell his children about his own tumor in his pancreas. This humane story from the frontiers of the fight against cancer deeply affected me, and evoked in me a strong desire to tell the story of cancer and our years of attempts to control and conquer the disease—the collective efforts of humanity to tame the beast
Cancer touches most of our lives, in one way or another. We cancer researchers recognize it is a privilege to be able to study this menacing disease, which presents itself in various forms, like the many-headed Hydra. We are responsible for sharing the findings of the science we perform with the support of taxpayer money, an obligation we fulfill by publishing our research in academic journals and presenting in scientific conferences.
However, the dense and dreary language of academic journals and paywalls can actively hinder the public understanding of cancer research. I wanted to build an outlet to share findings in a clear, accessible language and take down these barriers.
After months of brainstorming ideas, in the spring of 2018, I reached out to the ScienceBites consortium—a network of sister sites, including Astrobites and Chembites, which address the gap between research in any given field of sciences and the global community.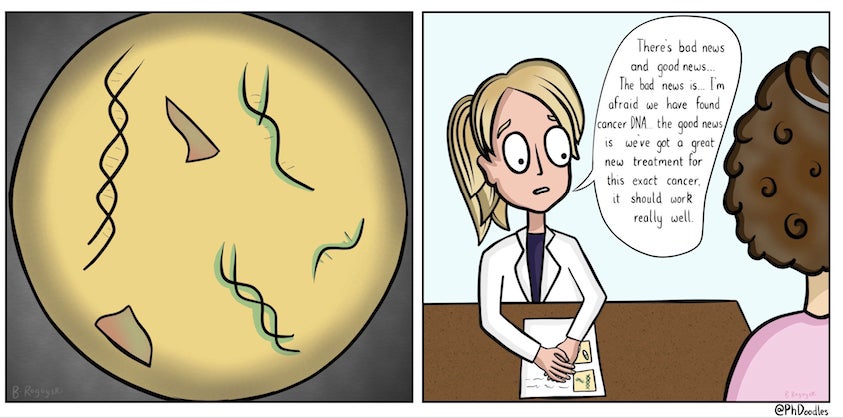 With a little help from the good friends at ScienceBites and the support of my colleague Sara Musetti, who has been associated since day one of this initiative, we co-founded OncoBites with a team of graduate researchers and PhDs. As the name suggests, we kept our articles bite-sized: approximately five-minute reads to share what is exciting in the field of cancer research.
Since 2018, we have published over 90 articles written by more than 20 researchers with diverse backgrounds and perspectives. Our readers came from over 100 countries. Our website was listed as an online resource by research groups, and our pieces featuring new therapies under investigation were highlighted by biotech companies.
We have covered a broad range of topics, including scientific research about the impact of the community of microbes in our body on cancer growth, how our diet affects cancer risk, who gets cancer and why, socioeconomic impacts of cancer, how we can predict patient response to specific therapies and personalize treatment, among many others. Our contributors have chosen various mediums, including cartoons, artwork and plays, to communicate the science behind cancer.
There is still a long way to go. We hope to continue sharing the latest advances, include more researchers from underrepresented communities and countries in science as contributors, and share the perspectives of clinicians, patients and their families. Only then we will be truly successful in painting a holistic picture of cancer!
We may not have a "cure" for "cancer: anytime soon. Cancer is not a single disease, as commonly perceived, but rather a collection of ailments, each different from the other. By developing a better understanding of cancer biology, finding markers for early diagnosis, and identifying specific and effective treatments, we hope to master improved ways of tackling cancer. By providing an outlet to researchers in sharing scientific progress simply and effectively, we hope to improve public understanding and eliminate misconceptions about the risks, therapies and management of cancer, at OncoBites.