I have a tenuous relationship with hope these days. It feels way too passive, especially given ever more dire scientific projections for our climate emergency. Last year when I wrote my annual top 10 list of environmental wins, the subtitle was "Just kidding, there were only three this year."
Looking back at 2019 (and the whole decade, to be honest) I find myself horrified and disheartened that we (aka climate realists) still have to work so damn hard to unseat the fossil fuel hegemony and dislodge the cultural status quo.
But there is most certainly something shifting—an overdue sense of urgency finally emerging—and there are a few things I've been encouraged by this year.
First, the energy, the momentum and (perhaps most importantly) the moral clarity of the youth climate movement. From Fridays for Future to Zero Hour to the Sunrise Movement, young leaders give a whole new meaning to "kids these days." In the United States, I'm impressed by how these activists have not only mobilized millions to #ClimateStrike, but also successfully pushed politicians to refuse donations from the fossil fuel industry and to endorse the Green New Deal. The student-led university divestment movement is also gaining steam. Last month Harvard and Yale students rushed the football field and delayed the game to push for divesting their collective $70 billion endowments from fossil fuels.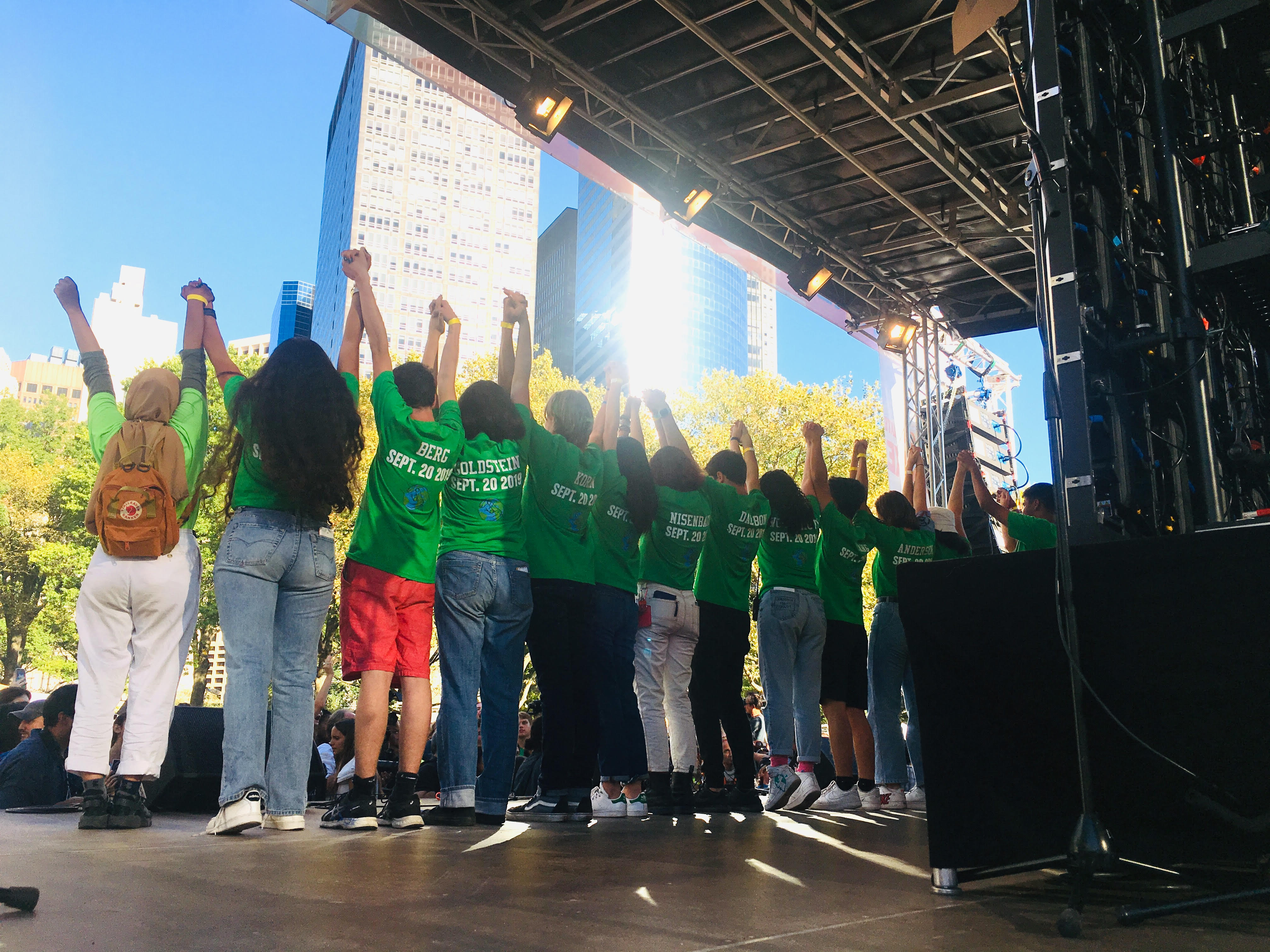 Second, the Green New Deal resolution was introduced in February. It's a bold framework that acknowledges climate change, inequality, employment and health care are actually all intertwined, so we need to address them together. Like many, my initial reaction upon reading it was "Whoa! These people really went for it. And maybe this goes too far." But after digging into the philosophy and talking with experts—and I even convened a public event featuring Rhiana Gunn-Wright, a policy lead for the Green New Deal, and Kate Marvel, a NASA climate scientist (see this previous post, and video below)—this comprehensive policy framework does indeed seem to be the best approach given the social transformation required to address the climate crisis.
Some recommended reading/listening/viewing: (1) Naomi Klein's new book On Fire: The (Burning) Case for a Green New Deal; (2) Ezra Klein's podcast interviews with Varshini Prakash (co-founder of Sunrise Movement) and Rhiana Gunn-Wright, and (3) the Intercept's short film A Message from the Future with Alexandria Ocasio-Cortez.
Third, looking ahead to 2020, a new president who prioritizes climate action and puts us on a fast track to zero emissions. Good news! There are actually multiple democratic candidates with solid climate policy proposals. Per Greenpeace's analysis, four candidates earn an A- or higher on their climate policy proposals. And Senator Elizabeth Warren has even released a Blue New Deal plan (which I was honored to advise on), detailing ocean-climate solutions to fill the big blue gap in the Green New Deal (which only mentions the ocean once in passing). This is more shine than the ocean has ever gotten in a presidential election; be still my marine biologist heart! More broadly, the thriving grassroots, youth-led movement could push the next president to be even more visionary and move even faster toward zero and then to negative emissions.
Fourth, what I call the "feminist climate renaissance" that we are witnessing. There have always been women leaders on climate issues, but they are now, finally, starting to get the resources and platforms they need to flourish. The youth climate movement is led primarily by girls, and there are two older generations of women standing right beside them. Notably, gloriously, these women leaders are deeply collaborative and generous. I've never seen anything like it in work or in a movement. This year saw a Women's Declaration on Climate Justice, created to uplift existing leaders to encourage others to join this cause. The two-minute video below, from a gathering I co-hosted with Katharine Wilkinson of Project Drawdown, sums it all up for me. The sisterhood grows ever stronger. #WomenLeadClimate.
Credits: Julio Palacio, Director DP; Katharine Wilkinson, Writer/Creative Director; Martha Jeffries, Executive Producer
Fifth, climate justice has become a rallying cry. The work to ensure climate action does not further entrench inequalities has a significant history, including WE ACT for Environmental Justice, the Climate Justice Alliance and the NAACP. Now, it has a megaphone. From youth protests, to candidates speeches, to the Green New Deal, there is now a shared understanding that the climate crisis amplifies inequalities, that our increasingly unnatural disasters hit hardest the already struggling communities of color and poor communities. It is increasingly understood that any legitimate plan to address the climate crisis must also address this injustice. As the seemingly ubiquitous protest chant goes: "What do we want? Climate justice! When do we want it? Now!"
Overall, it is critical to remember that we already have all the solutions we need. From renewable energy, to replanting ecosystems, to regenerative farming, to retrofitting buildings, to electrifying transportation, to reducing waste—we don't need to wait for new technologies, we just need to get to work. Plus, there is so much that can be done without the federal government; there is so much beautiful and creative work happening at local levels ready to be replicated and spread.
I'll end with my holiday wish, which is for every American to read the Green New Deal. The big secret is that it's only 13 pages—double-spaced, and in a large font! No need to guess what it says. I hope you'll cozy up with it this holiday season, so that as a society we can have an informed conversation about how to shape the policy changes we need to secure a livable climate.