For the past couple of months the European Space Agency's Mars Express orbiter has been keeping an eye on a visually striking feature down on the red planet. At first glance it could be easily mistaken for a volcanic plume coming from one of the giant Tharsis shield volcanoes - Arsia Mons to be exact.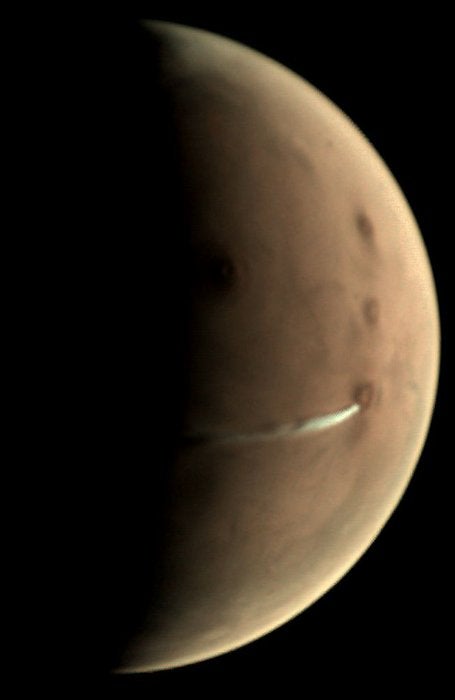 But all evidence points to this being something rather less dramatic, but no less scientifically fascinating.
Instead of seeing erupting dust and gas we're actually witnessing the formation of a recurring, and quite persistent cloud feature high in the martian atmosphere. Streaking about 1500 kilometers to the west of Arsia Mons (itself peaking at about 20 km altitude above the mean surface level) this is a condensation consisting of water ice particles.
The cloud forms on the lee, or downwind side of the huge volcanic mountain - growing to a peak size and length during the morning hours on this part of the planet. It's the northern winter on Mars, and similar cloud formations were already known to show up now and then in this spot, with sightings back in 2009, 2012 and 2015. Here's another terrific example of the 2015 clouds forming off to the west of Arsia Mons, observed by the Mars Orbiter Mission (Mangalyaan) of the Indian Space Research Organisation's (ISRO):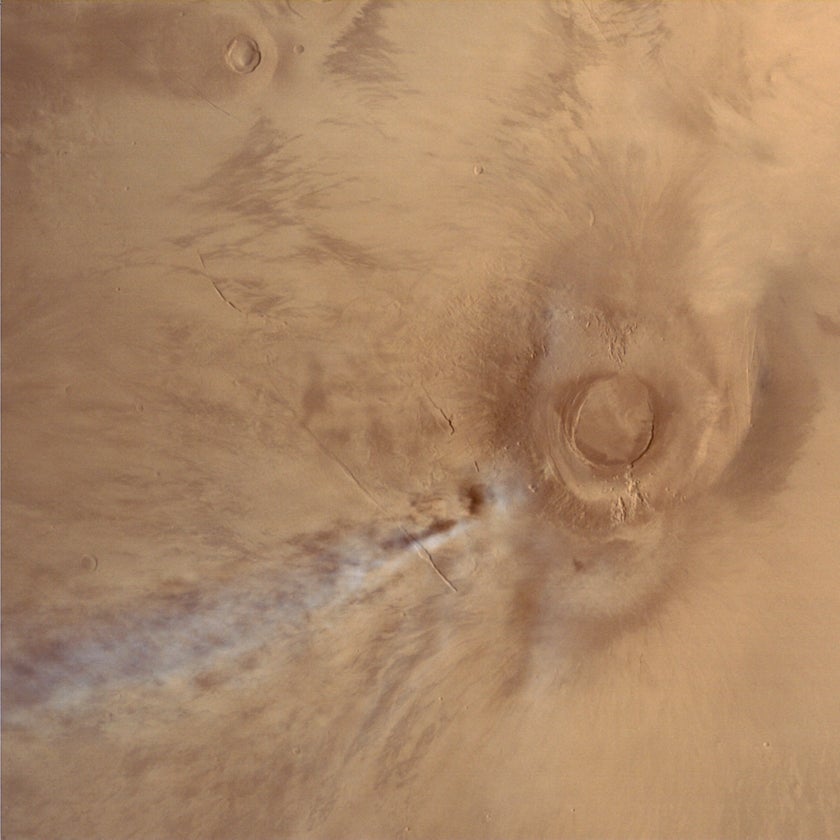 Water ice cloud formations like this are also related to the dust content of the atmosphere at any given time - and Mars is of course still calming down after a global storm earlier this year.
Just like on Earth, where our mountain ranges create local climates and often influence dry and wet zones, the mountains of Mars have a similar effect. It's a great reminder that even phenomena that are very familiar to us, and which are quite well understood, can take on a mysterious air when seen in alien contexts.