On November 5, the eve of midterm elections, the Department of Justice (DOJ) filed a motion to end Deferred Action for Childhood Arrivals (DACA), bypassing three federal courts—California, District of Columbia, New York—to expedite the review of DACA litigation by the United States Supreme Court. This motion threatens the ability of the "Dreamers" to live and work legally in the United States and makes them subject to deportation.
With the end of DACA, undocumented scientists will lose what few protections they currently have under immigrant law, lose their access to their scientific research, and once again live in fear, as they are caught in legal limbo.
Yet despite these daunting obstacles, they continue to tackle our nation's top challenges. Here are just a few of their stories
Kricia Ruano Espinoza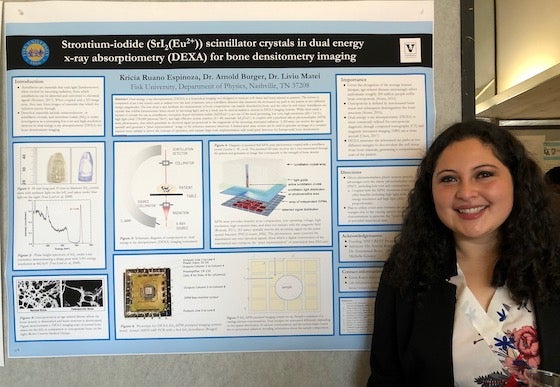 Kricia Ruano Espinoza, a first-year master's student in physics in the Fisk-Vanderbilt Master's-to-PhD program, is straddling the worlds of medicine and physics by working on radiation sensors, which can reveal important anatomical information about patients and are widely used by the Transportation Security Administration and in outer space as well.
Ruano Espinoza traveled from El Salvador to the U.S. with her younger sister when she was 11 years old. They were both detained at the border. "I vividly remember a pregnant woman in my cell with thorns in her feet, blood dripping on the floor," she says. "That image is forever engraved in my memory." DACA allowed Ruano Espinoza to obtain a double major in chemistry and physics from Willamette University. As a current graduate student, she faces new challenges with the potential end to DACA. "No one wants to live in fear of deportation when they are just entering their grad programs." Ruano Espinoza aspires to pursue an MD/PhD after getting her degree.
Christopher Ponce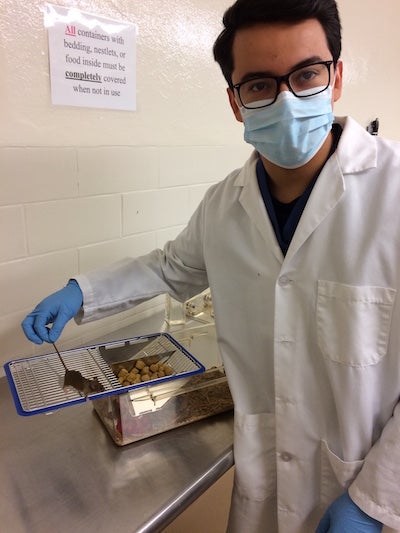 Christopher Ponce is a Texas Tech graduate in mathematics from Mexico, but his interests in the medical field led him to an assistant position in breast cancer research at his alma mater, specifically studying the role of cholesterol regulation in breast cancer cells. Cholesterol affects cancer cells by allowing them to grow. By mapping out the pathways of cholesterol in cancer, scientists can better understand how to stop the growth of cells by targeting the accumulation of cholesterol and, it is hoped, find alternatives to chemotherapy.
Ponce first got interested in cancer research when, as a young child, he translated an oncology report to his mom; where he learned she possibly had the disease. "It was devastating," he says. "I didn't tell my brothers or sisters, but it made me realize I wanted to do science as a career." Unable to go to medical school in Texas due to his undocumented status, Ponce had to move to another state to pursue his dreams. Currently, because of DACA, he is able to travel to different states to interview for medical school at. "But," he says, "the filing by DOJ has already affected me. My interviewers asked me about it during the interview. Who knows what will happen? Perhaps they won't accept me based on my status, but I'm hopeful they'll see past it."
Carlos Mendez-Durantes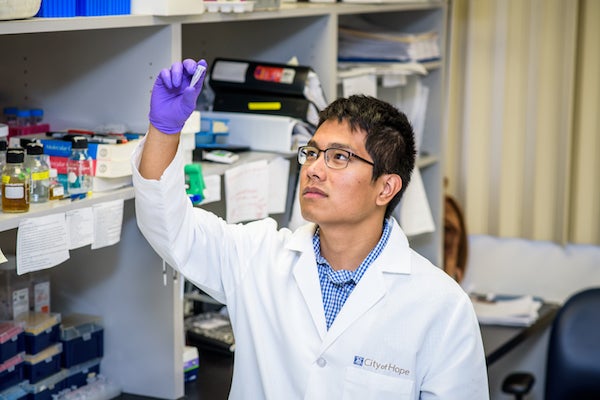 Carlos Mendez-Dorantes is a fourth-year PhD student, and a Ford Foundation Fellow, at City of Hope in Duarte, California, where he researches the formation of cancer-associated genetic abnormalities, such as chromosomal rearrangements, which can contribute to the initiation and development of the disease. One way that such rearrangements can form is when chromosomes break in cells, which is actually a common type of damage that results from cancer treatments. By studying how cells respond to agents that do such damage, including how and when rearrangements are formed, this research aims to identify potential therapeutic strategies.
Mendez-Dorantes came to the U.S. from Mexico when he was 10 years old. "My family came here so that I can be where I am now, a PhD student," he says. While DACA has allowed him to pursue his career in science, his undocumented status limits his career aspirations of becoming an academic professor. "My future is uncertain. I don't know what's going to happen to DACA. A lot of science funding requires citizenship or permanent resident status. I can't get funding for my training or my science. I don't know if I can even graduate."
Mario Pizarro Rojas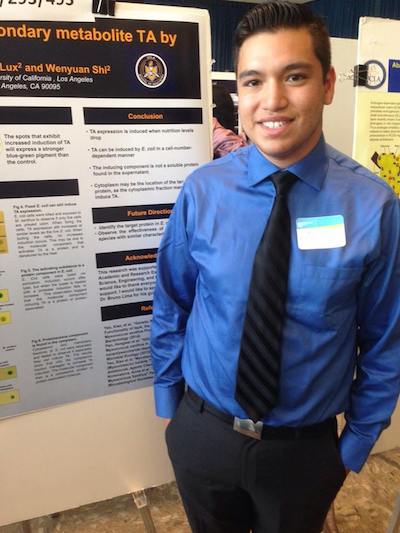 Mario Pizarro Rojas is a graduate student in the last year of his master's program in biochemistry at California State University, Los Angeles. His research focuses on changes in the structure and function of proteins. Such changes are normal, but when they go wrong, the result can be diseases such as autoimmune disorders.
Pizarro Rojas came to the U.S. from Chile when he was nine years old, and he was always interested in a career in biochemistry. After graduating from the University of California, Los Angeles with a B.S in microbiology, DACA allowed him to apply to graduate programs. "With DACA, I don't have to constantly worry about survival," he says. "I have a bit of breathing room." Now, as he applies to PhD programs, he's uncertain about his prospects. "The threats to DACA affect me, my mental health and my science. I'm constantly worried: How will I survive? How will I do my projects?"
Scholastica Cruz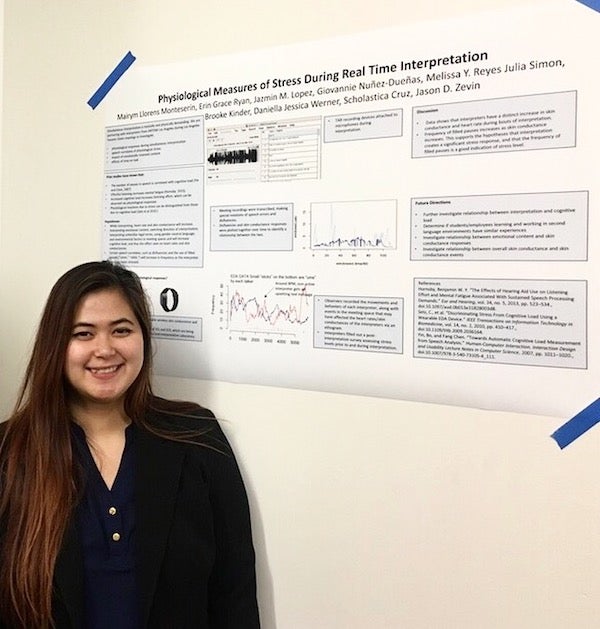 Scholastica Cruz, a Woodbury University graduate in psychology from the Philippines, is a research assistant in cognitive neuroscience and linguistics at the University of Southern California. She is currently studying the language used in standardized exams by testing comprehension in two different socioeconomic groups. This study aims to create standardized tests that better reflect the way people actually talk, because one test does not fit all.
Cruz came to the U.S. when she was only three years old with her father. When her father was diagnosed with a rare form of Alzheimer's, doctors could not explain why he had gotten it. "I got into neuroscience because I wanted to be able to read my dad's MRI scans," she says. "I wanted to study how people get Alzheimer's." Cruz started school as an undocumented student before DACA, and once the program was announced, it opened a world of opportunities for her to be able to study, pay for classes and have a license to drive around. Cruz aspires to obtain her PhD in neuroscience, wherewith to study Alzheimer's and neurodegenerative diseases, but her undocumented status causes a lot of uncertainty. "When DACA is threatened," she says, "it does get me down. But I have to work 10 times as hard to get to where I want to be. And I'm already halfway there. I'm persevering, and I am resilient".
The end of DACA for these scientists would mean bringing an end to their ability to travel, fund their research and apply for graduate or professional programs. Currently, DACA can only be renewed every two years, with no new application for younger generations. This will lead to a post-DACA world in which most undocumented scientists will no longer be able to work. "We can't forget about the rest of our community," Carlos Mendez-Durantes says. "There are many undocumented people without DACA contributing to our nation in many different ways. Including science."