At 83, Ed Hall is tall and lanky and moves with a shuffle. He wears a baseball cap and has a youthful sparkle to his smile. It faded as he led me to a hilltop above North Dakota's Lake Sakakawea, located on the Fort Berthold reservation of the Mandan Hidatsa Arikara (MHA) Nation, also known as the Three Affiliated Tribes. The lake is vast, with a shoreline that stretches 1,320 miles. It's also deep blue, and heartbreaking—at least for many who live here. As I came up beside him in the tall grass, Ed pointed to the center of the lake and said, "That's my home." His longing for home, and his despair at never being able to return there, has stayed with me. I think about it every time I see the lake.
I met Ed seven years ago through my work as a cultural anthropologist collaborating on a community-directed oral history project. Like many elders I spoke with, Ed explained that he was "born and raised under the water" at a town called Elbowoods. He was 18 when the U.S. Army Corps of Engineers constructed the Garrison Dam on the Missouri River in the early 1950s, flooding the reservation's towns and forcing tribal members to relocate. They moved away from the fertile bottomlands along the river where they had maintained self-sufficiency since time immemorial, to a period of economic hardship on the bluffs above. One of the new towns created during this relocation, where tribal headquarters are located today, is literally named "New Town."
Now, more than 60 years later, Ed and other elders say they are once again feeling displaced. An oil boom that began around 2008 and was made possible by advancements in hydraulic fracturing, or "fracking" is dramatically reshaping their reservation. The influx of industrial infrastructure and outsiders means you "feel like a stranger in your own home," as one elder told me. A young community member said, "This is my generation's Garrison Dam."
The MHA Nation accounts for about one fifth of daily oil production in North Dakota. Pumpjacks, which extract oil from the earth, flank reservation roads at frequent intervals, whirring and whining, turning slowly in a mesmerizing cycle above orange dirt pads carved into the grassy plains. Blasts of fire erupt from the landscape, their steady flames burning off natural gas day and night.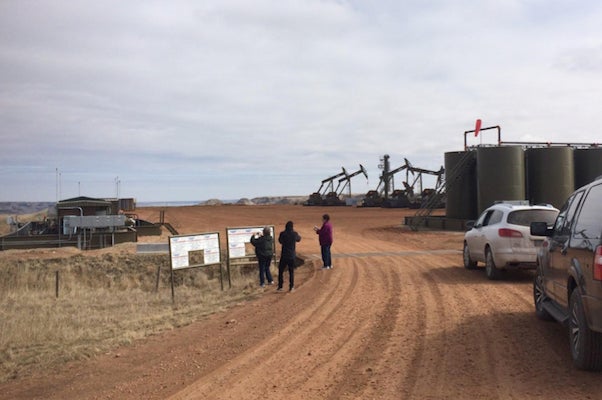 The land was further scarred by a devastating pipeline spill of "produced water," a brine that has very high concentration of salt and probably petroleum and fracking chemicals as well. More than three million gallons poured onto the land in 2014, leaving behind a trail of lifeless gray vegetation along the downhill path of least resistance to the lake where animals and the people get their drinking water. Years after the spill, orange safety cones and yellow caution tape remained as a warning.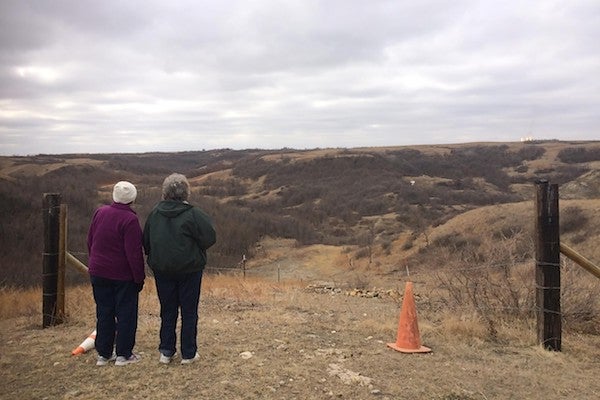 But oil production from fracking has also brought hundreds of millions of dollars to the tribe and some much needed development. When I visited MHA Nation in 2012, at the height of the boom, there were man camps (clusters of temporary housing for oil workers), unbearable truck traffic, and an uptick in traffic deaths. By 2016, there were two hotels, a new grocery store, a new health care system, a highway bypassing New Town, an event center and new tribal court and government buildings. This summer brought the opening of a water park, the announcement of a new Culture and Language Division under the MHA Department of Education, and the groundbreaking for an MHA Interpretive Center that will house exhibits about the history of the Nation as well as archives for research and sound studios to capture local oral histories.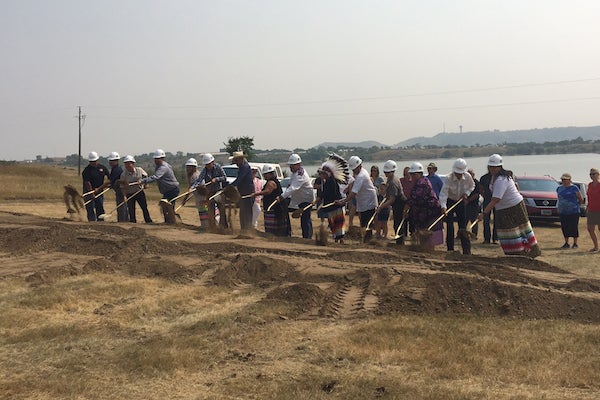 People here differ in their opinions about and their experience of the oil boom, in part because some own land and benefit and others do not. Many feel ambivalent, cautious, concerned, but also pragmatic, as evidenced in a video made in the early days of the boom. For Marilyn Hudson, fracking on her land "means a lot of security in our older years," allaying her fears about affording good health care. "All of a sudden, for our family, they were all resolved." But Marilyn is also an environmental activist and part of the Fort Berthold Protectors of Water & Earth Resources (POWER) group that advocates for better regulations and an end to environmental degradation due to sloppy oil company practices.
Community members like Marilyn are worried about their air and water quality, and the effect flares might be having on animals. They have concerns about drug trafficking and human trafficking. And some express concern that financial opportunity comes at the cost of tying the fortunes of this community in remote North Dakota to fluctuations of a global market over which they have no control.
As a cultural anthropologist, I aim to understand how people come to make sense of the world around them, and how their perceptions shape, and are shaped, by their beliefs and practices. This is how we can come to see their reservation as members of the MHA Nation do, as home and not home, and the boom as both sustaining and threatening future generations. (As I often tell my students, the job of a cultural anthropologist is to complicate things!). I continue to work with community members to represent the past and future in their own terms. When I talked to Marilyn about writing this post, she was reminded of a 1923 recording by Frances Densmore of Wounded Face singing a song in the Mandan language that, she noted, "is still the anthem of all the people here who have seen the many changes in the landscape": Ma'akĕ tĕ'haŋ makoṡ. Earth always endures.