It was my aim today to write either about more bats (for the previous articles go here) or to finish the Tet Zoo 12th birthday series (yeah, not done there). But I got distracted for --- while walking through the woods this morning, in quest of small passerines, two small birds dropped from a tree and hit the ground a short distance in front of me. As you'll see, I succeeded in getting a few not particularly good photos. Both birds were Eurasian blue tits Cyanistes caeruleus, and they were engaged in protracted battle.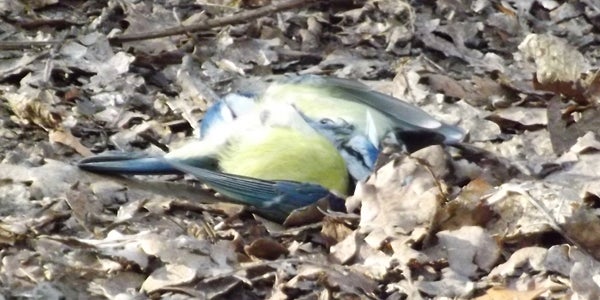 As is typical for small passerines of many species, the birds grappled while on their sides, the aim seemingly being to grip hold of the opponent's head (and maybe damage its eyes) with the powerful feet. I approached slowly and cautiously, aiming not to distract the birds as they rolled around on the ground in apparent ignorance of my proximity. I took what photos I could – but a dog (belonging to one of the ubiquitous dog-walkers present 24-7 in every single patch of forested land in the UK...) – was approaching from the left, so the whole thing was going to be over in the next two or three seconds. Sure enough, the birds detached, and flew away, though they continued to squabble in a nearby tree.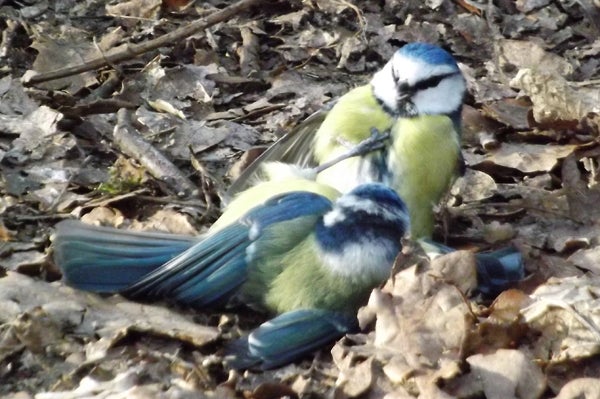 Anyone who pays attention to birds sees them fighting often enough. This is also the time of year when Carrion crows Corvus corone are battling it out over territory and it isn't difficult to see crows grab others by the wings during tree-top disputes, both birds then sometimes tumbling from the branches. And I see male Blackbirds Turdus merula in combat enough: they leap, fluttering and kicking, sometimes for minutes at a time.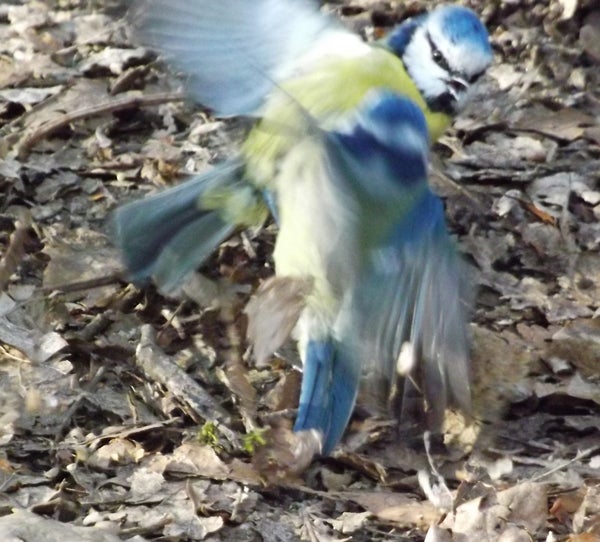 It should be emphasised, however, that combat among blue tits is seemingly not that common. I've watched Blue tits on countless occasions and have never seen this sort of thing before, and the literature I've checked on this species and other tits doesn't mention physical combat at all, says that it's rare, or only mentions physical combat occurring inside – or immediately adjacent to – nestboxes (e.g., Colquhoun 1942, Barnes 1975, Perrins 2012, Stenning 2018).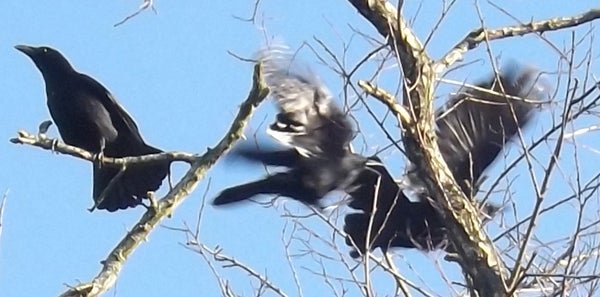 Long-term readers will recall me covering the exact same subject – that is, combat in passerines – a few times previously, most recently in June 2014. Those previous articles cite combat events in starlings and feature photos of battling Eurasian starlings Sturnus vulgaris and Great tits Parus major.
Blue tits have been written about at reasonable length at Tet Zoo before: see Blue tits: passerines seen from the peripheries (part II). And for previous articles on passerines at Tet Zoo, see...
Refs - -
Barnes, J. A. G. 1975. The Titmice of the British Isles. David & Charles, Newton Abbot.
Colquhoun, M. K. 1942. Notes on the social behaviour of Blue tits. British Birds 35, 234-240.
Perrins, C. 2012. British Tits. HarperCollins UK, London.