Throughout the world, interactions between wildlife and people can sometimes lead to conflict. This may manifest itself as crop and property damage, livestock depredation, human injury and death—and it poses a significant challenge to conservation. Nowhere is this more apparent than in India, where shrinking spaces and growing human needs have resulted in 78,656 incidents being reported to the government from 18 states in one year—with more than 35,000 occurring in Karnataka alone, and compensation payments totaling $5.3 million for these losses.
In fact, this is just a fraction of the $222 million being spent by 50 other countries worldwide. But as home to global conservation icons such as tigers, leopards and Asiatic elephants, species that are conflict-prone, India faces a special urgency to mitigate and manage wildlife related losses while fostering tolerance among millions of people.
Compensation payments are just one of several strategies to tackle this challenge, along with early warning systems, the use of protective measures (fences, ditches, noise, guarding, etc.) and insurance schemes. In India, the government's policies and assistance to vulnerable families varies dramatically. There is heavy emphasis on "verifiable" damage related to larger species such as elephants or tigers, while small-scale but more frequent losses caused by animals such as pigs, primates and rodents are discounted.
The lack of transparency and delays in processing times by overwhelmed government offices has immediate repercussions: tigers are mobbed, leopards are burnt, elephants are electrocuted, and government officers are beaten up. With only a fraction of affected people filing claims—as our research involving multiple tiger reserves in India has revealed—there is an urgent need for improving the government-mandated compensation process.
In July 2015, therefore, we launched Project Wild Seve around Bandipur and Nagarahole National Parks and Tiger Reserves, where the Centre for Wildlife Studies has been involved in research and conservation for more than four decades. ("Seve" means service in the regional language Kannada.) In these villages, blessed with plenty of water and fertile soil, farmers grow up to 50 different crops almost year-round. Yet, their lives are anything but idyllic.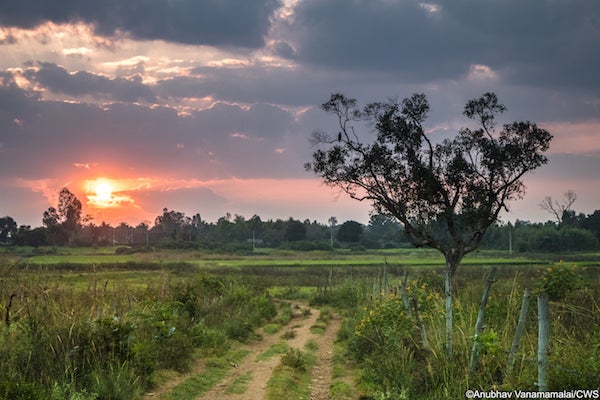 These communities routinely face damage to their crops and property, including injury or death of their livestock (and occasionally people)—all attributed to wildlife.Although the government has provided paid compensation for 44,000 reported incidents in the past decade, people have remained frustrated and have continued to retaliate against wildlife.
Wild Seve uses a toll-free mobile number linked to a responsive field team to facilitate live reporting and monitoring of conflict incidents. Wild Seve currently services almost a half million people living in over 600 village settlements neighboring the wildlife reserves. In 34 months, we have filed 10,224 claims. As a result of our efforts, more than 5,700 cases have received $240,000 in payments from the government.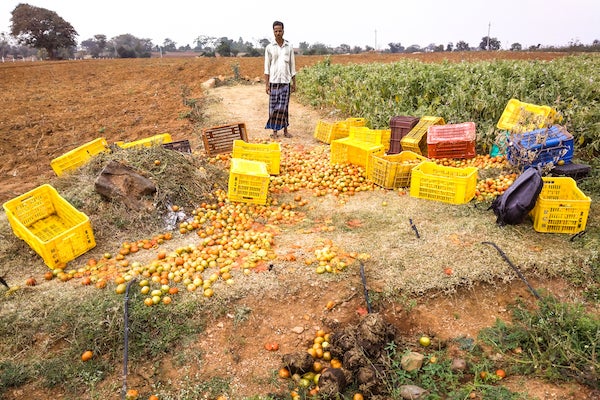 Wild Seve has helped redress 9,637 cases of crop and property damage, 546 cases of livestock depredation and 41 cases of human injury and death around these reserves. A response to a reported incident now takes place within the first 24 hours 98 percent of the time—compared to 64 percent previously. Payment processing time has decreased from 273 to 114 days.
Our real-time monitoring has provided valuable insights. We have identified the most vulnerable places and people. Villages such as Devarayashettypura and Naganapura together have reported more than 1,500 cases. We have assisted around 1,700 individuals more than once.
Nanjundaswamy, who lives in Ballurahundi, in Bandipur has called in 44 times. For him, we verified and filed 43 claims for crop loss and one claim of property damage. For Veerappa from Devarayashettipura, we filed 32 claims and he received $1,613, while for Bhavanishankar, also from Devarayashettipura, we filed 37 claims, and he has received $1,594 thus far.

For others, such as Kalanayaka from Berambadi and Anand Kumar from Belathur, who have repeatedly lost livestock to big cats, we have assisted in building livestock protection sheds, with 42 sheds now completed.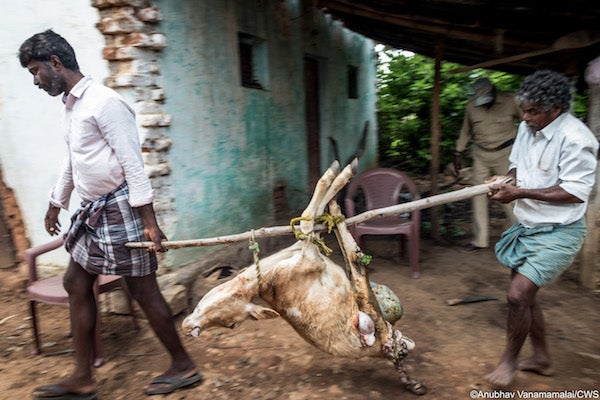 Yet, we know that for the family of Venkatesh, who lost his life to an elephant, receiving a payment of $7,500 will not bring back their loved one. The emotional and psychological trauma and physical stress that people undergo in protecting their lives and property often remains unaddressed. That is why, with so many people living in such close proximity to wildlife, we continue to work with local agencies to identify services that can provide emotional support.
Wild Seve originally started as a conflict response and compensation claim assistance project. As the program has grown, our committed field staff have established a great rapport with the community and generated goodwill towards wildlife. Wild Seve continues to evolve and expand the range of services for people living adjacent to wild places like Bandipur and Nagarahole.
We are proud and excited that this project serves as a globally scalable example to address human-wildlife conflict. In the meantime, in this important conservation landscape, we are confident that recovering populations of tigers, leopards and elephants will continue to persist amidst people.
Scientific References:
Karanth, K.K., Gopalaswamy, A.M., Prasad, P.K., Dasgupta, S. 2013. Patterns of human-wildlife conflicts and compensation: Insights from Western Ghats protected areas. Biological Conservation. 166: 175-185.
Karanth, KK, Gupta, S, Vanamamalai, A. 2018. Compensation payments, procedures and policies towards Human-Wildlife Conflict Management: Insights from India. Biological Conservation.doi:10.1016/j.biocon.2018.07.006