I hate the month of May. The beautiful flowers, the crisp air—most people would say that this is one of the most picturesque times of the year. But for me, it reminds me of some of the most painful memories of my young life. It reminds me that my mom is gone forever and the reason why she was taken from me.
The summer before my senior year of high school, my mom was diagnosed with ALS—a neurodegenerative disease that takes away one's ability to walk, talk, eat and ultimately breathe. What had started as my family making fun of my mom's muscle twitches, took over five months to diagnose. My dad and I were fed up with how long it was taking to find out what was wrong with her, so we did some digging on our own.
One day, I logged into Facebook to see hundreds of videos of people dumping frigid ice water onto their heads. I looked up "ALS Ice Bucket Challenge" and was shocked to see that almost every symptom lined up with what my mom was going through. Only a few weeks later, the doctors came to the same diagnosis that I had already known. My mom had a terminal illness and was probably going to live for only three to five more years. Little did we know that those three to five years would actually only be a year and a half.
During a time when my classmates were excited about the future, I wished I could go back in time. Back to when my family was "normal," back to when I thought my mom would grow old with my dad, back to when my teenage world hadn't flipped upside down. My simple suburban home quickly turned into the busiest hospital in town. Day in and day out, we had a revolving door of caregivers, worried friends and warm meals. Don't get me wrong—I was extremely thankful that our family had the means to keep my mom at home, but it did not come without its costs.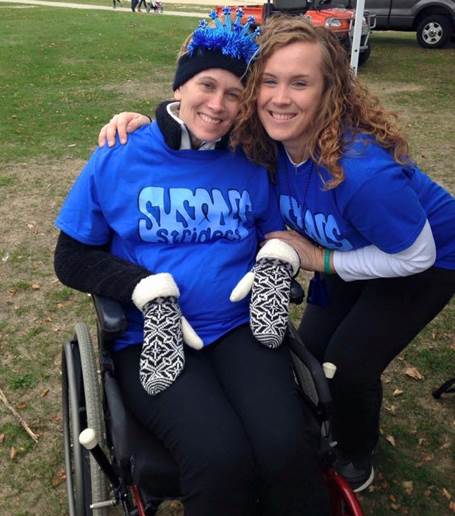 Some mornings, the caregivers would be running late or unable to come in. My dad needed to provide for our family and continue working, so I was the one who stepped up. From bathing my mom, to wiping her bottom, to cleaning out her feeding tube, these were some of the responsibilities of my life as a child caregiver. At only 17 years old, my mom's disease had taken over my life.
But it was more than the physical tasks that affected me. My mom's disease destroyed me emotionally. Although I was still a high-school senior figuring out where I wanted to go to college and leading my varsity basketball team as captain, I was also carrying around a huge burden on my shoulders.
After having to stay home to take care of my mom for the morning, I would arrive late to school. My guidance counselor, understanding my situation, would quietly sneak me in the side door and then into class. But, the whispers of my classmates about the girl getting "special treatment" hurt more than they knew. I lost touch with most of my friends, as I no longer cared about the school gossip and drama, or who won the football game last week.
All I cared about was that my mom was dying. I spent many days in class just crying and unable to complete work. My body was physically in the classroom and running on the basketball court, but my mind was going through every single scenario of how my mom could die that day. It was pure hell.
At a grief camp I attended, run by Hope Loves Company, a nonprofit dedicated to supporting children losing a loved one to ALS, I heard five words that changed my life. I was prompted by a doctor to "remember to be a kid," as he could see that I was maturing faster than I should. Those words really struck me. I was constantly worried about my depression, about my mom's impending passing, but what if I could instead focus on something positive instead?
Since I was 17 years old and not a scientist by any means, I knew I could not develop a cure; but I could raise money for those who were smart enough to do so. I channeled all of my anger, loss of hope and desperation into fundraising for the ALS Association and Hope Loves Company. Over the course of that year and a half that my mom bravely battled ALS, I helped raise over $80,000 for these two influential nonprofits.
Since my mom's death, I have advocated on behalf of child caregivers from places such as Orlando, Fla., for the International ALS Alliance Meeting, to Reykjavík, Iceland to present to the ALS Association of Iceland about the importance of child grief camps. And now, I am working with ALSO US and Wendy Angulo, a professional writer, to bring my story to life through a public speech, such as a TEDx Talk. Through my advocacy and fundraising, I have tried to bring hope to others, but more selfishly, to myself.
May is ALS Awareness month, Mother's Day and my mom's birthday, all in one. It is a month that reminds me of my loss and pain, but it also reminds me of why I work so hard and what I fight for. I fight so that no one else ever has to hear the words, "Your mom has ALS." Her courage still guides me and pushes me to advocate for those affected by this horrific disease. My mom, Susan, is my purpose.