In my community of Madison, Wisc., where the Pentagon plans to upgrade the fighter jets at the local Air National Guard base, the public has been largely opposed. While the ongoing story has certainly been a sociopolitical one, it's also been a science story, as residents register their concerns over higher decibel levels and potential environmental impacts.
In Flint, Mich., a story about lead contamination poisoning poor and largely minority children has also been a science story. So have the stories about wildfires ravaging Australia; the global implementation of 5G cellular service; gun violence tearing apart communities throughout the United States; and the worst outbreak of measles in the U.S. in decades.
Science is embedded in virtually every part of our lives. And few, if any, of the stories that emerge when science meets society are simple. This was one of the realities that drove me and my colleague Jeanne Erdmann to co-found the nonprofit science journalism website The Open Notebook (TON) nearly a decade ago. And it was the impetus behind TON's new book, The Craft of Science Writing, published on February 1, 2020.
Making sense of the science that affects our lives, appreciating the context in which that science takes place and communicating about the science and the human beings involved—especially those whose voices are often left unheard—is the collective responsibility of anyone who cares about science and its role in society. Helping science journalists and others interested in communicating about science develop the skills to do so is TON's mission. Never has this been more important.
The 400-plus stories published at TON since 2010 aim to help people communicate science effectively and engagingly. Our stories on the craft cover topics such as how to structure a narrative to engross readers to the end; how to vet industry PR claims; and the importance of including a diversity of perspectives in every story. We even cover the mundane questions, like where to sit during scientific meeting sessions you're reporting on, or how to keep your notes from getting soggy in the field. Through interviews with leading science journalists and annotations of award-winning articles, we reveal how the best science stories get made, from conception to completion. Each story in TON is pitched, written and edited by professional journalists.
The new anthology gathers together some of our most popular articles, and a few new ones, into something that writers can keep at hand, whether or not covering science is their full-time beat. It's also a resource for journalism and writing instructors to use in classrooms to help their students learn from some of the best science journalists working today. We also hope it's useful to nonjournalists interested in learning the stories behind the compelling science stories they consume, and those who wish to better understand the mechanics of accurately conveying science to the public. No matter what people seek from the book, we hope they will enjoy it. It's not a textbook, but an exploration of the most challenging and rewarding parts of being a writer.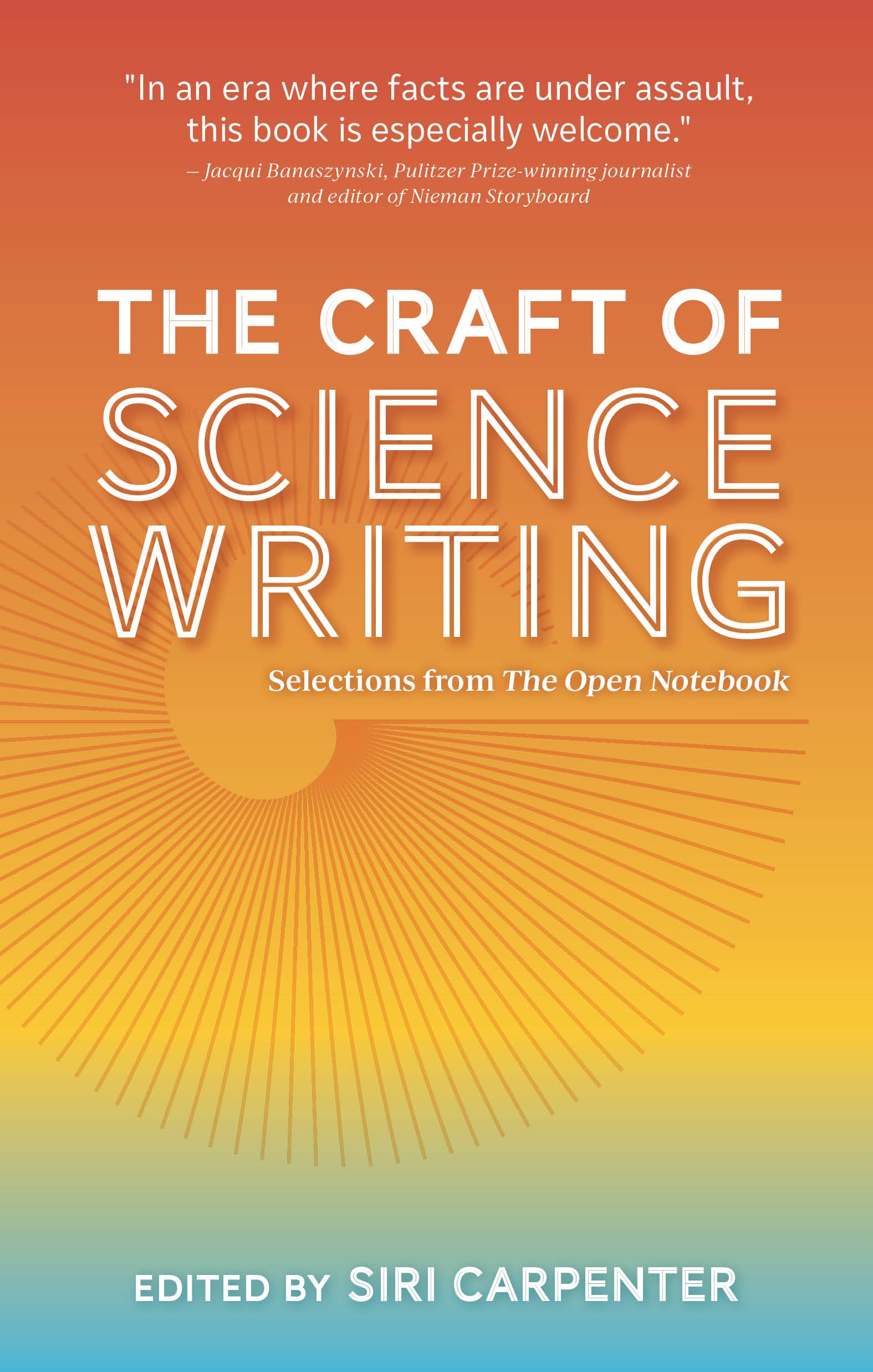 For anyone who communicates about science, the first imperative is to get the facts right. But disseminating facts is only the first step in good science writing. Facts are the stuff of reports; they may be required reading, but they rarely, on their own, inspire or persuade. That is the job of stories. Stories bring us questions that need resolving, debates we can sift through, characters we might love or revile, conflicts that leave us wondering how it will all work out, dialogue and scenes and action that entertains, enrages, or reveals some kind of essential truth. Whether they're covering gene editing, dinosaur evolution, drug discovery or the latest SpaceX exploits, journalists need to be able to marry the goals of accuracy and storytelling.
The Craft of Science Writing explores what it takes to do that. One example is Annie Waldman's devastating 2017 ProPublica investigation of maternal mortality at hospitals that primarily serve black mothers. Tasneem Raja writes that Waldman's story "makes the invisible visible," mixing hard numbers and searing personal stories to illuminate why some hospitals are so perilous for black mothers. "I'm a self-professed data nerd, but it's never enough just to have the numbers in your story," Waldman says. "You have to have the humans behind it." Talking with Raja, she explains why she took on the story and how she reported it, from accessing medical records to building trust with grieving families.
The reporting path Waldman followed, and the challenges she confronted, reflect many of the themes that The Open Notebook aims to illuminate: How do you distill vast data sets into digestible narratives? How do you find the human stories that every data point represents? How do you handle the delicate but crucial task of interviewing people who have experienced trauma? How do you gather the telling details that bring characters and scenes to life? How do you handle the emotional toll of reporting on wrenching topics like maternal and infant mortality?
Such questions seldom have simple solutions. Even across hundreds of stories at The Open Notebook, and the curated stories in The Craft of Science Writing, we still don't have all the answers. But my hope is that by asking these hard questions within our craft we are demystifying the process to help us all get that much closer.