Starting on July 20th 1976 things started to get busy on Mars. First NASA's Viking 1 lander made it down to the surface, followed a couple of weeks later by Viking 2 on August 7th. In the meantime the Viking 1 and 2 orbiters set up shop high above the planet.
Both landers were equipped with what were, at the time, pretty special cameras. These used a mirror to 'scan' a vertical slice of the terrain, digitizing the light with a photodetector. By rotating the mirror slightly and taking another vertical scan an image was slowly built up and transmitted back to Earth. This was a far cry from today's highly sensitive, high-definition digital sensors.
But it worked. And it worked well - despite challenges with determining the true colors of the images. Given the Insight mission's recent successful landing on yet another part of Mars, I thought it'd be fun to take another look at some of those pioneering Viking shots.
Here's an interesting one. The boom or arm in the image holds Viking 1's meteorology sensors - four feet above the surface they captured pressure, temperature, and wind speed and direction.
Here's another reminiscent of Insight's first shots. This is looking at Viking 1's radioisotope thermoelectric generator (RTG) to the left and the flat topped boxy looking device in the middle is the seismometer (yes, Viking carried one of those too).
And next is the very first image sent back from the surface of Mars, a few minutes after Viking 1 landed. The darker streak to the left was thought to perhaps be due to a temporary dimming of the light - perhaps a cloud or dust - revealing the vertical stripes of the way the image scanning camera worked - as it slowly tracked around.
Viking 2 took the following image of its surroundings, showing a thin layer of what was thought to be water ice - a frosty covering barely a thousandth of an inch thick. It persisted for about 100 days.
Color images were possible too - with some tweaking of the 3 color filters. This is the first color image from Viking 2 - note that the lander itself was tilted about 8 degrees from the horizontal, making the horizon look a little askew.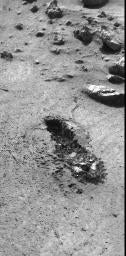 Finally, the first trench dug on Mars - by Viking 1, after 8 sols on the surface. It's about 6 inches long and 2 inches deep. By now, in 2018 it is almost certainly gone, filled in by migrating dust.