The main harvest of 2019 of the primary food crops of Central America—corn and beans—was completed in September, and for the fifth consecutive year, extreme weather led to a bad harvest. According to the World Food Programme, crop failures in the Central American nations of Guatemala, El Salvador, Honduras, and Nicaragua--failures primarily due to drought—are currently causing 1.4 million people to urgently need food assistance. The agency said that 30% of the households with migrants in the affected areas cited climate-induced lack of food as the main reason for leaving their homes and becoming migrants, and that emigration from those nations increased by a factor of five from 2010 – 2015. An internal report from the U.S. Customs and Border Protection agency, obtained by NBC News in September, found that the overwhelming factor behind the recent record migration from Guatemala was a crop shortage that left citizens impoverished and starving.
The 2019 drought led to a state of emergency being declared in Honduras in August, with the southern section of the country reporting 72 percent of corn and 75 percent beans being lost, according to the country's Ministry of Agriculture and Livestock. The 2018 and 2019 droughts and flooding also hit Central America's coffee growers hard. Coffee growing is a fundamental part of the livelihoods of the poorest population in the region, with 1.3 million people in Guatemala, El Salvador, Honduras and Nicaragua (3.5% of the total population) who depend on this income as small producers and/or cutters.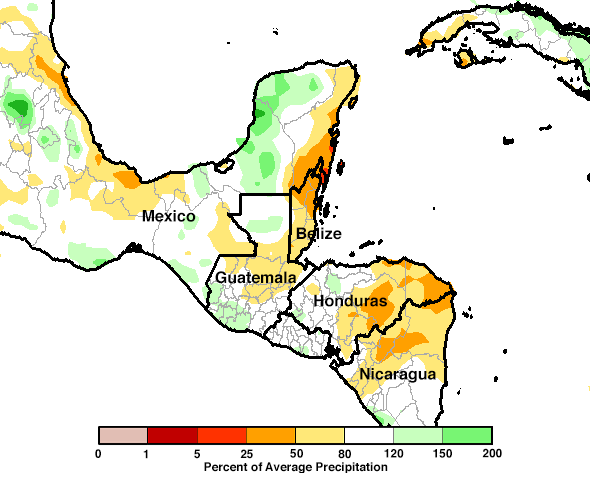 No Atlantic tropical cyclones for Central America in 2018 or 2019
Part of the reason for the disruptive drought conditions the past two years in Central America was from the lack of landfalling Atlantic tropical cyclones (the catch-all term to describe tropical depressions, tropical storms, and hurricanes). In most years, the region gets one or more named storms, but in 2018 and 2019, none occurred. Tropical cyclones are an important source of precipitation to Central America and coastal Mexico. No tropical cyclones from the Pacific side of Central America affected the region in 2019, either--though in 2018, Tropical Storm Vicente did bring heavy rains to Guatemala.
Another major disruption to agriculture in Central America this year occurred because the summer seasonal rains were very late. Large portions of Nicaragua, Honduras, Mexico, and Guatemala received rainfall less that 80% of average for the summer (Figure 1), though heavy rains did affect the region in September and October, causing damaging flooding.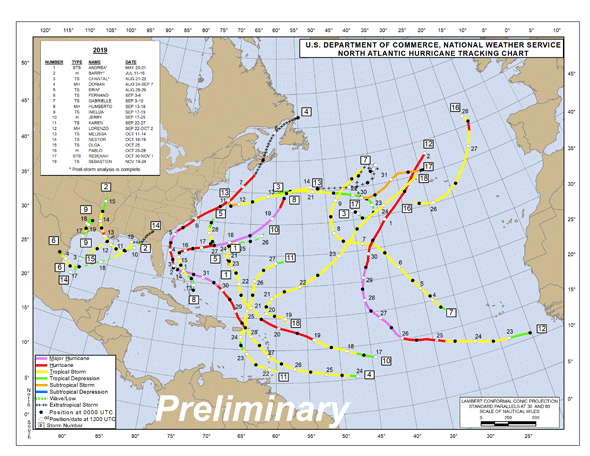 Central America has been getting hotter and dryer, but with heavier floods
Human-caused climate change has strongly affected Central America in recent decades. According to the latest 2014 report from the Intergovernmental Panel on Climate Change (IPCC), the most authoritative and heavily peer-reviewed climate change report ever done, Central America became significantly hotter and dryer in recent decades. Rainfall declined by about 1 mm per day during the period 1950 – 2008, and temperatures increased by 0.7 – 1.0°C (1.3 – 1.8°F) during the 40-year period that began in the mid-1970s. The report identified Central America as the tropical region most responsive to climate change. "Evidence for this has been accumulating particularly in the last 30 years, with a steady increase in extreme events including storms, floods, and droughts," the IPCC noted. In a hotter, dryer climate, flooding is still a serious concern. When it does rain, the rain tends to occur in heavier precipitation events--the ones most likely to cause destructive floods--since a hotter atmosphere can hold more water vapor.
A specific attribution study to connect the recent drought in Central America to human-caused climate change has not been done. However, a 2018 study, Exacerbation of the 2013–2016 Pan‐Caribbean Drought by Anthropogenic Warming, found that for the neighboring Caribbean region--which has also been experiencing a devastating drought in recent years--human‐caused warming contributed to around 15 - 17% of the severity of their 2013 - 16 drought, and 7% of its spatial extent. The findings "strongly suggest that climate model projected anthropogenic drying in the Caribbean is already underway, with major implications for the more than 43 million people currently living in this region", the authors concluded.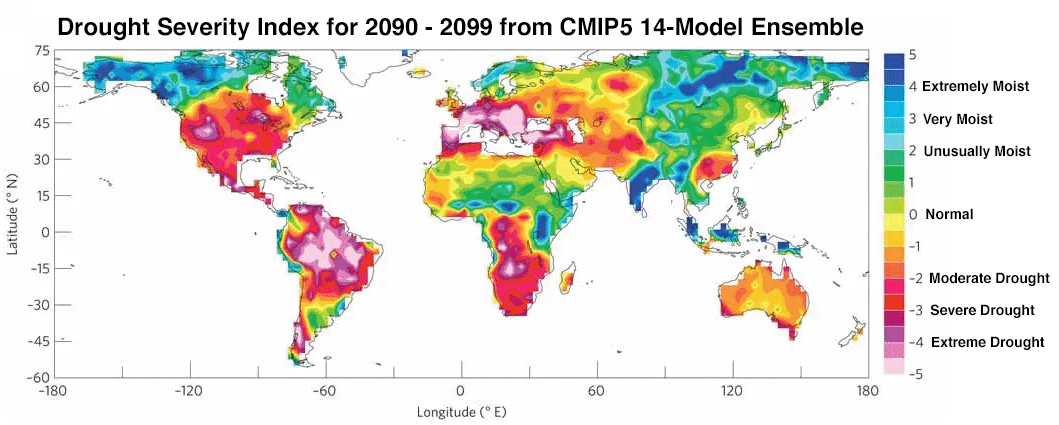 A much warmer and dryer climate predicted for Central America
Computer climate models consistently predict a warmer and dryer climate in the coming decades for Central America due to human-caused climate change. The 2014 Intergovernmental Panel on Climate Change (IPCC) report summarized that the latest generation of climate models (CMIP5) predicted warming of 1.6 - 4.0°C (2.9 - 7.2°F) over Central America by 2100, with most models predicting a simultaneous decrease in precipitation. These models predict that on average, most of the region will be under moderate to severe drought by the end of the century (Figure 3).
A warmer climate will lead to a significant increase in drought, even if precipitation does not decrease, since warmer temperatures increase drought by heightening evaporation from soils and vegetation. Agricultural production destined for internal consumption in Central American is dominated by corn (70%), beans (25%), and rice (6%); the yields of all of these critical crops are projected to drop drastically if business-as-usual climate change continues. The Economic Commission for Latin America and the Caribbean (ECLAC) estimated in 2010 that Central American yields of corn, beans, and rice might fall by 10%, 29%, and 14%, respectively, by 2070—with even steeper declines by 2100.
Some of the more extreme climate model predictions call for 5°C (9°F) of warming and precipitation decreases of up to 48% by 2100 in Central America. Climate change of this magnitude would likely lead to catastrophic impacts on civilization there. With tens of millions of people facing starvation, mass migration, collapse of societies, and war would all be significant risks. An excellent discussion of the dire food supply risks vulnerable places like Central America face due to climate change is given in a very sobering book published in October called Food or War, by science writer Julian Cribb.
Millions of new Central American climate change migrants likely by 2050
A 2018 World Bank report found that 1.4 – 2.1 million people in Central America and Mexico (approximately 1% of the population) are likely to be displaced from their homes by the year 2050 due to factors related to climate change—primarily due to drought and increasing extreme flood events. In a worst-case scenario, up to 4 million might become climate change migrants, if the region does not develop more climate-friendly and inclusive models of agriculture, the World Bank said. Millions more people in the region are likely to become migrants in the coming decades due to gang violence, corruption and political upheaval.
The current U.S. policy of using law enforcement at the border with Mexico to deal with the migration crisis does not address a key root cause—lack of food. Providing food aid to Central America along with funds to help with climate change adaptation would help address this root cause. In the longer term, the U.S. could also address the migration crisis by leading the world effort to reduce emissions of greenhouse gases—with adoption and strengthening of the Paris Climate Agreement being a sensible first step.