In 2016, Dr. Maria Caffrey, a climate scientist with the National Park Service (NPS), put the final touches on a four-year study providing future sea level and storm surge estimates for 118 coastal parks under different greenhouse gas emissions scenarios. The report passed scientific review, and was ready to be published in early 2017. By then, though, the winds of change had blown into power the Trump administration, which was fiercely hostile to climate change science. Dr. Caffrey's report was repeatedly delayed, and while she was on maternity leave in December 2017, she received word that the senior leadership at NPS had removed any mention of the human causes of climate change from her report.
In a July op-ed in the Guardian, Dr. Caffrey wrote, "A months-long battle ensued. Senior NPS officials tried repeatedly, often aggressively, to coerce me into deleting references to the human causes of the climate crisis from the report. They threatened to make the deletions without my approval if I would not agree, to release the report without naming me as the primary author, or not release it all. Each option would have been devastating to my career and for scientific integrity. I stood firm."
Fortunately, Dr. Caffrey knew that the mission of the Climate Science Legal Defense Fund (CSLDF) was to help scientists like her fight political interference, and she reached out to them for help navigating her negotiations with NPS officials. Dr. Caffrey's report was published in May 2018 with the original references to human-caused climate change intact. In June 2018, CSLDF attorneys, working pro-bono, helped Dr. Caffrey file a scientific integrity complaint focused on the attempts to censor her report. NPS officials dismissed this complaint, claiming that because the report was ultimately published, there was no violation of scientific integrity.
Unfortunately, she was subject to a series of demotions and funding cuts during this battle, culminating in termination of her employment in February 2019. The NPS refused to even hire her back as a volunteer, and CSLDF attorneys helped Caffrey file a whistleblower complaint against the Trump administration on July 22 to contest this unlawful retribution. On July 25, Caffrey testified in front of the House Committee on Natural Resources about her ordeal. Despite ample department funding, strong performance reviews, and ongoing National Park Service projects that required her input, she testified that she believed that her termination was due to "retribution for my having made disclosures about the attempted censoring of references to anthropogenic climate change." Her case is ongoing, as detailed in an August CSLDF blog post.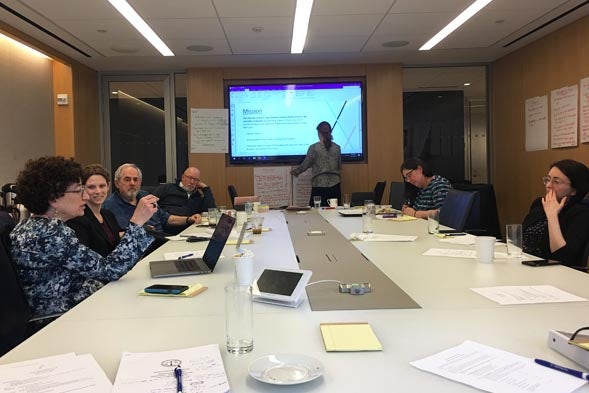 Please support the Climate Science Legal Defense Fund (CSLDF)
Sadly, the type of censorship Dr. Caffrey endured happens with alarming frequency in the federal and state governments; between 2016 and 2018, the Trump administration removed 26% of all mentions of the terms climate change, clean energy, and adaptation from federal websites, according to an analysis from the Environmental Data & Governance Initiative. CSLDF maintains a Silencing Science Tracker that has documented 382 cases of government attempts to restrict or prohibit scientific research, education or discussion, or the publication or use of scientific information since the November 2016 election.
The hostility of the Trump Administration towards climate science underscores the urgent need for legal protection of climate scientists so that they can continue their critical research in the face of threats. The nonprofit Climate Science Legal Defense Fund (CSLDF) was created eight years ago to help climate scientists fight back against politically-motivated and industry-funded harassment, and I'm proud to say that I'm a founding board member.
CSLDF provides support and resources to the scientific community by offering free legal aid to scientists who are harassed, threatened or attacked for doing their jobs; educating researchers about their legal rights and responsibilities; sharing strategies and information about cases with attorneys; and publicizing attacks on science. One of their causes in 2019 was to support passage of the Science Integrity Act. This bill ensures that government scientific integrity policies meet rigorous minimum requirements, and gives scientists a clear recourse if an agency fails to enforce its own policy. The Science Integrity Act was approved by the House of Representatives' Committee on Science, Space, and Technology on October 17 in a 25–6 vote that included bipartisan support.
Check out the CSLDF website at csldf.org, and please consider making a tax-deductible donation to help protect the scientific endeavor on Giving Tuesday.
CSLDF at the AGU Meeting in San Francisco, December 9 – 13
CSLDF will have a significant presence at the American Geophysical Union (AGU) Fall Meeting in San Francisco this year, including a booth (330) in the Exhibit Hall where scientists can pick up copies of CSLDF's educational materials. CSLDF will also offer free and confidential one-on-one consultations with attorneys for any scientist attending the conference. To schedule a consultation, please email lawyer@csldf.org. In addition, CSLDF will host two sessions on legal issues pertaining to scientists:
• Know Your Rights: Scientific Advocacy & Activism on Monday, December 9, from 4:30 – 5:30 pm.
• Scientific Integrity Policies and How to Use Them on Thursday, December 12, from 12:30 to 1:30 p.m.
CSLDF will also be running a Town Hall, "Advocating for Science as an Expert or as a Citizen" at 12:15 pm Thursday, January 16, at the American Meteorological Society (AMS) Annual Meeting in Boston. More information about these sessions as AGU and AMS is available online here.
Once again, please consider making a tax-deductible donation to the Climate Science Legal Defense Fund this Giving Tuesday week.