One of the first things many STEM programs have to decide is who its audience will be. Maybe they are looking to provide new opportunities to underserved populations in the local community. Maybe they are trying to find environmentally concerned middle schoolers from across the country to shape into a league of citizen scientists. Maybe they are challenging tech-savvy teens worldwide to identify the next great minds in robotics. Programs can foster competitions, collaborations, roles for mentors, or a chance to be mentored. It is a broad landscape of approaches taking every shape, size, and perspective. But in many cases, isolated programs with even the most inspiring potential only last as long as the lone, passionate leader stays at the helm – or until the initial round of funding runs out. The STEM Learning Ecosystems Initiative is working to counter that trend by bringing together local, regional, and state STEM Learning Ecosystems from across the country to build a national community of practice.
The STEM Learning Ecosystems Initiative does not focus on (or provide) any particular type or programming, and its target could hardly be more far-reaching: "preK-16 schools; community settings such as after-school and summer programs; institutions of higher education; STEM-expert organizations such as science centers, museum, corporations, intermediary and non-profit organizations or professional associations; funders; and informal experiences at home and in a variety of environments." That all-encompassing reach is intentional. As the title would suggest, they are not creating programs – they are building ecosystems. And this approach is hardly going away, with "Foster STEM Ecosystems that Unite Communities" listed as one of the key objectives in the federal government's recent 5-year plan for STEM education.
Each of the initiative's 68 current ecosystems represent a city or region that has come together to build a rich, multi-stakeholder environment committed to creating learning opportunities. In addition to providing a variety of opportunities and resources, an ecosystem may be able to overcome limitations that would stifle an individual program. In Upper Midlands Michigan, the more than 20 miles from schools to the Boys and Girls club was too much for parents, so local businesses supported the creation of mobile fab labs that could not only travel to schools, but churches and hospitals as well. When one community in Cleveland did not have access to a library, the group met at the local grocery store with Wi-Fi.
As diverse as approaches and settings may be, Gerald Solomon – co-founder of the initiative and Executive Director for the Samueli Foundation – has seen the power of peer-to-peer learning. Representatives from each ecosystem come together at national convenings to develop skills for their own programs and to serve as a resource for others. Solomon and the other STEM Ecosystems Initiative leaders recognize that each community has its own needs and feel there is more to be learned from studying successes and providing resources than dictating actions. Based on more than a decade of research on successful STEM collaborations, the STEM Learning Ecosystems Initiative has tried to identify factors for a healthy and sustainable learning ecosystem. Alyssa Briggs, Director of STEM Learning Ecosystems and Global Community of Practice, says the Ecosystem Indicator Tool, developed over 4 years, helps them identify common strengths and weaknesses across the country. Three key factors for sustainable ecosystems include: being anchored by a passionate leader, having a steady and diversified source of funding, and reaching a diverse cross-section of the community.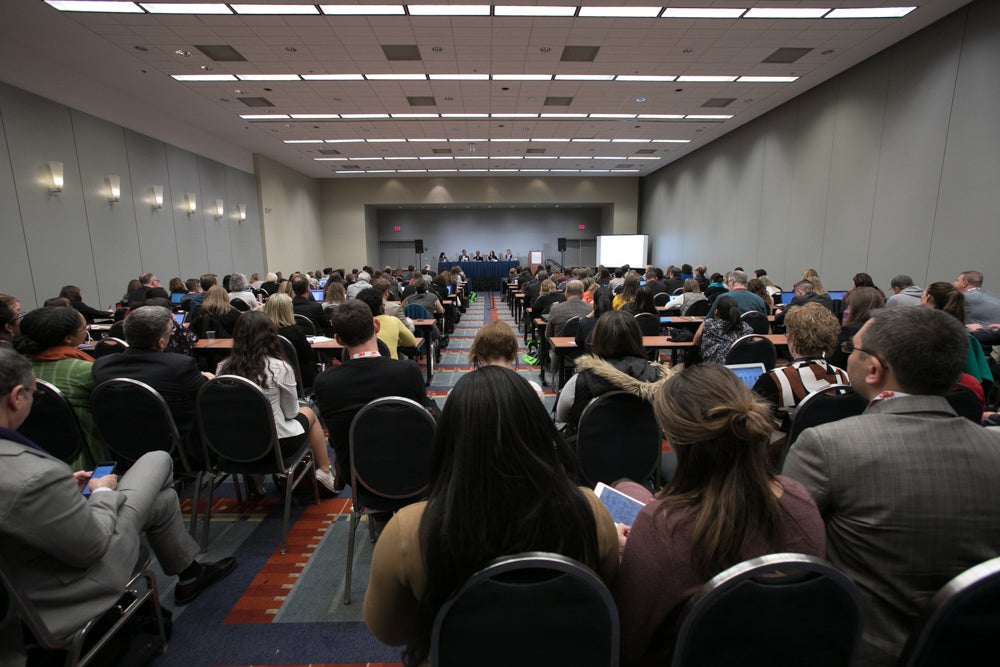 With all of the resources available to members of the STEM Learning Ecosystems Community of Practice – national convenings, webinars, an online community build to encourage peer-to-peer support and mentoring, and technical support – it is no surprise that more ecosystems are hoping to join each year. But identifying communities that are at the right stage can be hard. Solomon says one part of the application includes a lengthy questionnaire that forces all of the community partners to come together and sign off as a collaborative unit. And every community puts its best side forward, so there is preliminary work to show they are actually ready for peer-to-peer learning. There are interviews, deep narrative questions, and letters of support from key decision makers in each organization. Briggs says that success requires not only evidence of successful collaboration, but a culture of collaboration between stakeholders overall.
Once in, communities become part of a massive peer network. They gain access to a resource of diverse institutional knowledge and technical support. Expert technical assistance and coaching is provided by the Teaching Institute for Excellence in STEM. After realizing that many people have not received training in how to reach out to sponsors, the initiative established a curriculum for that important skill. The LEAD STEM program is a five-year commitment for individuals who want to become leaders within their communities. It includes one year of intensive training, including how to talk to businesses, industry, school administrators, and more. Briggs says that within 5 years, a hundred individuals will have been trained around the country to take this role and support others within their communities.
With the ambitious goal of nurturing effective science, technology, engineering, and math learning opportunities for all young people, the STEM Learning Ecosystems Initiative has had to learn how to step back. Focusing of infrastructure and design thinking rather than content opens the door for each community to cultivate programs that best serve the needs and interests of their own. By bringing together their community of practice, members can learn from each other in unexpected ways – like the rural US community and the ecosystem in Kenya both building frameworks around local water resources issues. Solomon looks forward to finding ways to support the passion of local leaders willing to take on the charge, but also provide the tools for infrastructure that can stand when any one person leaves.
The STEM Learning Ecosystems Initiative is a project of the STEM Funders Network – a mix of more than 20 education-focused private and corporate foundations who are working together to increase the knowledge and expertise of grantmakers investing in STEM, leverage their collective resources, and collaborate on high-impact projects they could not undertake alone.