Finally, finally, science has given the world the thing we've all been waiting for: heart-shaped bacteria.
And not just heart-shaped bacteria, but also cube-, pentagon-, star-, triangle-, and cross-shaped bacteria! Were we able to fill a bowl with these sculpted bacteria, it would no doubt be magically delicious.
Why, you may ask, bother to grow heart-shaped bacteria? To which I answer, why not?? Can't science just let its hair down every now and then and party? But the scientists who cooked up this crazy scheme at the Okinawa Institute of Science and Technology, whose work was published last month in Nature Communications, did, in fact, have some actual scientific questions they hoped to answer. And they even got some answers.
The questions revolved around cell division. When rod-shaped bacteria like E. coli divide, a ring of proteins accumulate at the bacterial equator and rotates around it (the scientists called this "treadmilling"). This ring guides the growth of the new cell walls that will divide one cell into two.
Inspired in part by cubic watermelons, they wondered: does the construction and operation of this ring depend on having a round cell cross-section? Or would a square cell or a heart-shaped cell or a star-shaped cell physically disrupt its operation?
To make these unconventional shapes possible, the scientists had to treat the bacteria with a chemical that softened their cell walls to enable them to conform to microscopic molds they had built out of agarose gel.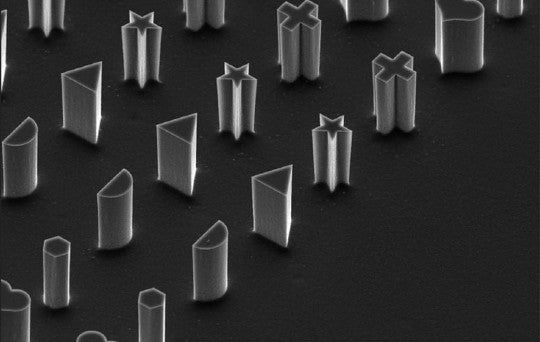 The spaces these molds offered were larger than the volume of a normal rod-shaped bacterium, so the shaped bacteria ended up being larger than normal as well.
But no matter what tight, sharp corners or weird angles they threw at the Z-ring, as the division proteins are known, they still formed at the bacterial equator and appeared to treadmill around it normally (although in the case of heart-shaped bacteria, about 20% only had half a Z-ring for reasons that remain unclear).
This result is perhaps unsurprising. These are not the first oddly-shaped bacteria in the world. Naturally star-shaped bacteria actually exist, and the range of other natural bacterial forms is astounding (see the illuminating Fig. 1 here). It's also known that in nature bacteria can adapt their shapes to the requirements of their environment, divide while contorted, and then revert to normal shape after a stressor abates.
Of course, this revolutionary breakthrough also makes possible another thing we've all been waiting for -- bacterial conversation hearts:
LET'S DO BIOFILM
HOLD MY PILUS
FIT FOR LOVE*
TWO NUCLEOIDS
BIND ME
THAT PLASMID
URA PROKARYOTE
GOT RESISTANCE
TOO FECUND
GRAM POSITIVE
and of course
#CONJUGATE
*actual Sweetheart message 2004
Reference
Söderström, Bill, Alexander Badrutdinov, Helena Chan, and Ulf Skoglund. "Cell shape-independent FtsZ dynamics in synthetically remodeled bacterial cells." Nature Communications 9, no. 1 (2018): 4323.